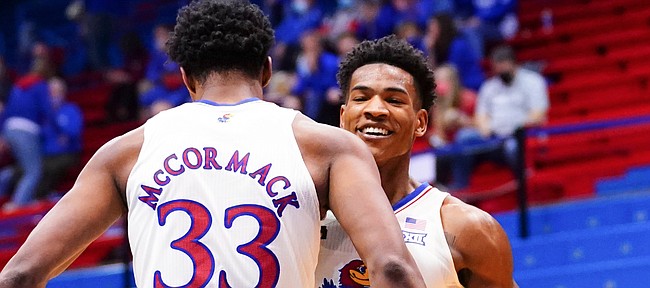 More unflappable as a player and versatile as a scorer than he was earlier in his career, Kansas guard Ochai Agbaji recovered quickly from his zero-point outing this week versus Creighton.
The junior's ability to redeem himself served as an important development in an otherwise trivial Friday night rout at Allen Fieldhouse.
No one in the gym looked as effortless or effective as Agbaji, who put up a game-high 18 points on 7-for-10 shooting, while needing to play only 21 minutes in the 95-50 trouncing of Omaha
"My mindset wasn't any different going into this game than it was going into the Creighton game," Agbaji said during his postgame video interview, three days removed from an 0-for-6 showing versus the Bluejays.
Photo Gallery
Kansas basketball v. Omaha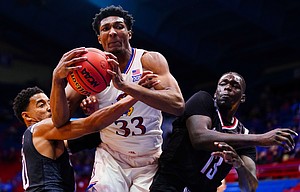 View a gallery of images from Friday's game between the Jayhawks and Mavericks at Allen Fieldhouse.
The 6-foot-5 veteran from Kansas City, Mo., didn't need a pep talk or anything close to that to move past it.
"It's a new day. New opportunities. That's how I think," Agbaji said. "That's what my mindset is."
That's a perfect approach for a shooter, too, and Agbaji's stroke seven games into this season looks like it could be as crucial to KU's success as sophomore Christian Braun's, with both of them capable of keeping the floor spread and defenders honest.
Agbaji went 4-for-6 against Omaha, bringing his season total from long range to 17-for-35 (48.6%).
"His stroke looked great," KU head coach Bill Self said after Agbaji's latest display. "Looked like a pro jumping up and shooting it. He's not going to go four of six every game from beyond, but we need to keep him aggressive like that."
This was Abbaji at his best. Confidently rising up to knock down open 3-pointers. Swooping in for an offensive rebound and put-back. Attacking off the bounce to open the second half. Tipping the ball out for an offensive rebound to extend a possession. Spotting a driving lane and instinctively getting to the rim. Catch and shoot, follow through, nothing but net.
A lot of times Agbaji looked so undaunted he might as well have been playing inside a a completely empty Allen Fieldhouse.
That chill demeanor also allowed him to not dwell on the past.
"Last game was a rough game," Agbaji admitted. "My teammates knew it. They just did the best job — I'll give credit to them — they did the best job keeping me confident, keeping me up through the practice days and preparing for this game."
Agbaji deserves more credit than the humble junior let on, though. The Jayhawks (6-1) could tell he had everything under control.
"He bounced back really well," fifth-year senior Mitch Lightfoot said. "His attitude never changed the entire time. That's just a testament to the kind of kid he is and how he was raised. He kept that same energy and his same vibe the entire time."
A year ago, Agbaji might not have pulled that off. He came into his sophomore season probably with some people expecting more out of him than they should have. There were times when he didn't bounce right back after an off night or a bad matchup. Last season he followed up a four-point outing against Monmouth with another four-point game versus East Tennessee State. Sometimes, from afar at least, it seemed he might be overthinking.
Document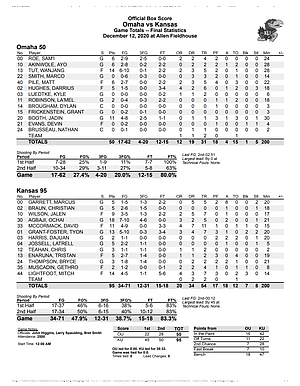 Even as KU took off as a team, Agbaji had a string of four single-digit outings in a row in Big 12 play in early 2020, and went through a different three-game streak of single digits later in the league schedule.
This was just one nonconference game against Omaha, but Agbaji looks better equipped now than he was as a sophomore to move past any flawed games.
"He was aggressive," Self said. "He looked great. I really felt like he would. He's a good player, and he's played so well, just labored the other day a little bit."
Agbaji's versatility when the ball gets to his hands fuels his confidence.
Said Lightfoot: "Now he can really shoot the ball, and he can get a shot off the bounce, whether that be a pull-up, stepbacks, stuff like that. He's really expanded his game and helps us stretch the floor."
These are the types of things a leading scorer does. And Agbaji absolutely can be that man for the Jayhawks when all the points are tallied at the season's end.
Especially if redshirt freshman Jalen Wilson (nine points and seven rebounds 17 minutes versus Omaha) comes a little bit back down toward Earth, instead of existing exclusively in another stratosphere as he had been the past couple of weeks.
And there's still plenty of room for Agbaji to grow in the months ahead.
"That's something I'm still working on," the junior said of taking more shots deep in the paint. "Just being an inside presence, getting to the paint, finishing at the rim, really.
"Outside presence this year just came naturally," Agbaji added.
His instincts, which help him shine as a scorer, are going to make Agbaji invaluable for KU this year.