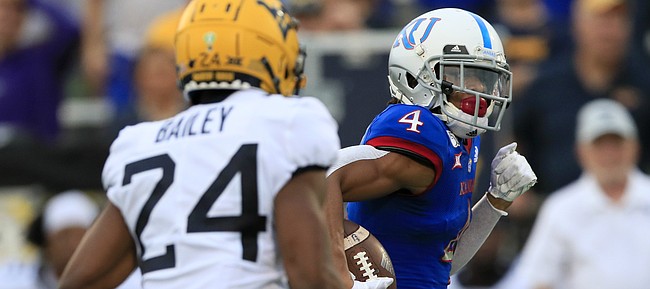 As the Kansas football offense looks to rebound from a disappointing 2020 season, it will have to do so without receiver Andrew Parchment.
Any hopes the Jayhawks had of bringing Parchment back for an extra senior year officially vanished on Friday, as the 6-foot-2 wideout announced via his social media accounts that he entered the NCAA's transfer portal.
Parchment, who joined the Jayhawks as a junior college transfer in the spring of 2019, thanked head coach Les Miles and receivers coach and passing game coordinator Emmett Jones for giving him "the opportunity to play for an amazing university and represent the Kansas Jayhawks."
According to Parchment, discussions with his family led him to part ways with KU, enter the portal and play one more year of college football elsewhere in 2021.
In his first season with the Jayhawks, Parchment emerged as the offense's breakout star. He caught 65 passes for 831 yards in 2019, and scored seven touchdowns as KU's No. 1 receiver.
He landed on the 2020 preseason All-Big 12 first team as a result, but the KU offense stumbled throughout the months that followed, and the Jayhawks' issues with their offensive line and quarterback play impacted Parchment's production.
In eight games this year — Miles said Parchment missed the Texas Tech game due to a sickness — the long and speedy veteran wideout only caught 24 passes for 197 yards and a pair of touchdowns.
In six of his eight starts in 2020, Parchment finished with 27 or fewer receiving yards, including his first game at KU without a reception at Kansas State.
Miles stated recently his hopes to bring back both Parchment and senior receiver Stephon Robinson Jr., in 2021, making use of a blanket NCAA waiver that granted an extra year of eligibility to Division I athletes in all fall sports due to the pandemic.
Parchment decided to go another route.
Mayberry also eyeing grad transfer
As it turned out, the portal gained two veteran Jayhawks on Friday, as senior cornerback Kyle Mayberry also announced his plans to play for another program next year as a graduate transfer.
"It's been a lot of ups and downs," Mayberry stated in a note he tweeted out, "but no matter what I am appreciative of the university."
Mayberry called it "a hard decision" to seek out a transfer after "a great four and a half years" with the program.
A defensive back from Tulsa, Okla., Mayberry signed with KU in its 2016 recruiting class, under then head coach David Beaty. He played each of his first two years in the program before redshirting in 2018, and then became a regular in the secondary the past couple of years.
As a fifth-year senior, Mayberry finished the just completed season with 25 total tackles, two pass breakups and a quarterback hurry in his eight appearances, mostly as a reserve.
With Mayberry and Parchment entering the portal, there are now four KU seniors from this season who are hoping to catch on with a different team in 2021. They joined punter Kyle Thompson and center Api Mane in looking for a new home to close out their college careers.
Walk-on receiver in portal
KU receiver Hunter Kaufman, per 247 Sports, also entered the portal on Friday.
Kaufman, a walk-on from Pratt, played sparingly as a reserve this year, contributing primarily on special teams. He spent four years at KU and was a redshirt junior in 2020.
Here are the other former Jayhawks who have entered the portal since football resumed in August: senior offensive lineman Antione Frazier, freshman defensive lineman Clinton Anokwuru, senior defensive back Julian Chandler.