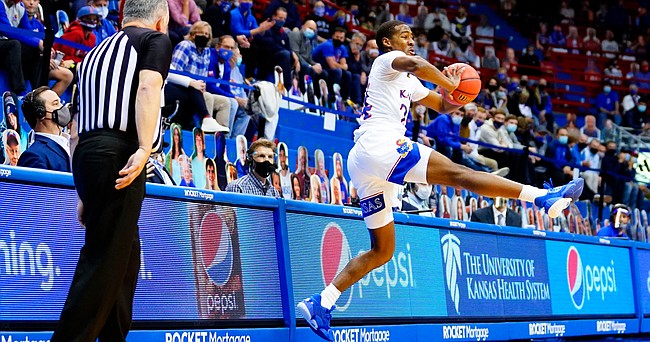 Even at this early stage of his career, Kansas guard Bryce Thompson has played more minutes and scored more points in a game than he did against Creighton on Tuesday night.
But none of those previous performances, where he scored in double figures or topped 20 minutes, were quite as memorable or critical as what he provided during the fifth-ranked Jayhawks' 73-72 victory over the nation's No. 8-ranked team at Allen Fieldhouse.
Thompson scored eight points on 3-of-6 shooting in 17 minutes against the Bluejays. But it wasn't as much how he played as when he played that was the story.
With junior guard Ochai Agbaji struggling through an off shooting night and sitting on the bench for large stretches of the second half, it was the 6-foot-5 freshman Thompson who was out there in crunch time for Kansas.
It was a big spot for any true freshman. But Thompson's teammates never blinked when they saw him out there.

Photo Gallery
Kansas basketball v. Creighton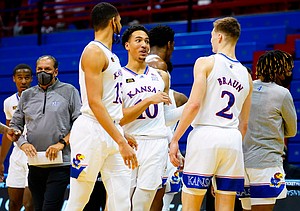 View a gallery of images from Tuesday's game between the Jayhawks and Blue Jays at Allen Fieldhouse.
"The most impressive thing about Bryce, to me, is what people don't see," KU sophomore Christian Braun said after the victory. "Bryce works extremely hard at like everything. It doesn't matter. He's 100% effort all the time, getting shots up and stuff like that. So you know he's confident when he's in there."
His confidence is evident when he's on the floor and does not take long to spot. Whether it's the willingness to step into an open jumper or the desire to dig in on defense at game point, Thompson's competitive nature and past experiences appear to have prepared him for what he's going through today.
"Bryce is not gun-shy," Kansas coach Bill Self said Tuesday night. "He's a confident kid."
His steel nerves and strong belief in his own game were tested on Tuesday.
Late in the game, with Kansas leading by two, pressure defense from Creighton above the 3-point line forced Thompson into a turnover that led to a layup for the Bluejays and tied the game at 70.
On the very next possession, from almost the very same spot, Thompson had the ball in his hands again and this time he delivered, feathering a pass down low to David McCormack who immediately kicked it out to Jalen Wilson for the game-winning shot.
It was the definition of that "next play" mentality that coaches always talk about. Rather than shrinking in the moment and doubting his ability to make the play, Thompson trusted his training and came through.
Document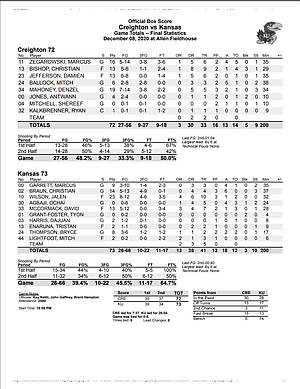 Self was thrilled that the freshman from Tulsa, Okla., got the chance to atone for his mistake.
"He needs to learn and go through that," Self said.
When asked about the decision to stick with Thompson after the turnover instead of turning to Agbaji for the final 1:05 of the game, Self showed his own dose of confidence in Thompson.
"Ochai had been over there (on the bench) a while," Self said. "If a guy's gonna come in and then be asked to make a shot or do something like that and he hasn't been in the game for 10 minutes, I'm not sure that's the best position to put him in. … I thought that Bryce could make a shot if put in a position to make a shot."
Instead, the KU freshman made a key pass, proving that his mind works beyond just finding ways to take open shots.
Thompson finished Tuesday's game with two assists, two rebounds, two turnovers and a steal. His coaches and teammates praised his play as a defender, as well.
"I thought he defended very well," Self said.
Added Wilson: "On the defensive end, his intensity is crazy."
Now that Thompson has experienced success as a closer against a top-10 foe with the game on the line, the Jayhawks move closer to Big 12 Conference play, which opens Dec. 17, believing even more than he'll be able to deliver whenever he's called upon.
"Everyone can see how hard he's working, how hard he's playing," said Wilson of Thompson, noting that "his energy" is one of his best assets. "He hit some huge shots for us. He's getting huge rebounds, blocking shots, defending his man. He came into the game and gave us everything that we needed to win that game."