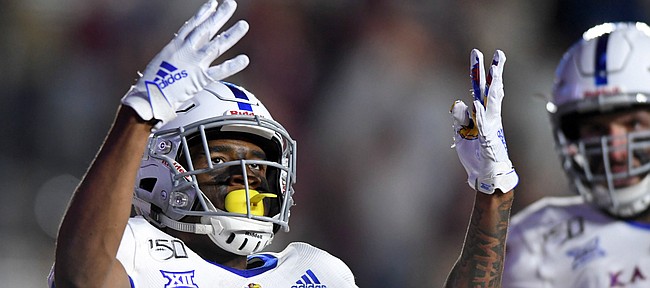 Pooka Williams' Kansas football career is officially over.
The Jayhawks' former star running back, who opted out of the remainder of the 2020 season after four games, announced Sunday afternoon the next step in his football life, declaring for the 2021 NFL Draft.
Williams, a preseason All-Big 12 back from Louisiana, shared his plans on his Twitter and Instagram accounts in a note.
"Since I was a kid, playing in the NFL has been my goal and I could not be more excited to continue to work toward that goal," part of the statement read.
In his announcement, Williams also thanked KU head coach Les Miles and the coaching staff, as well as his teammates, likening them to his brothers.
"I will always bleed crimson and blue," Williams wrote, after sharing that "Coach Miles is my guy for life."
Miles stated publicly in late October he was expecting Williams to return to the program for the 2021 season.
"Certainly we'd love to have him," Miles said at the time."
Listed at 5-foot-10 and 170 pounds as a junior at KU, Williams rushed for more than 1,000 yards in each of his first two seasons, emerging as an electric offensive player for the long struggling program.
KU's offense floundered, though, this year, and Williams' effectiveness declined. After rushing for just 21 yards on 11 carries in KU's loss at West Virginia, Williams announced he was opting out of the season.
In four games as a junior, Williams averaged only 3.8 yards per carry — he averaged 7.0 yards as a freshman and 5.2 as a sophomore. Williams ran for 196 yards (65.3 yards per game) and scored two rushing touchdowns in 2020. Earlier in his career, he totaled 1,125 rushing yards (102.3 per game) as a freshman and 1,061 as a sophomore (96.5 per game).
Williams revealed his opt out plans on Oct. 19, hours after being named the Big 12's Special Teams Player of the Week, an honor he picked up by returning a kickoff 92 yards for a touchdown on what proved to be the final play of his KU career.
In a statement released at the time of his opt out, Williams said part of his plan involved moving back to Louisiana to be closer to his mother, who was dealing with health issues.
Had he so chosen, Williams could've returned to KU and still been considered a junior in 2021, due to the NCAA giving a blanket waiver to athletes for an extra year of eligibility because of the pandemic. He also could have transferred to finish his career with another program. Instead, the former four-star recruit who came to KU in the Class of 2018, will try to forge a career in the NFL.