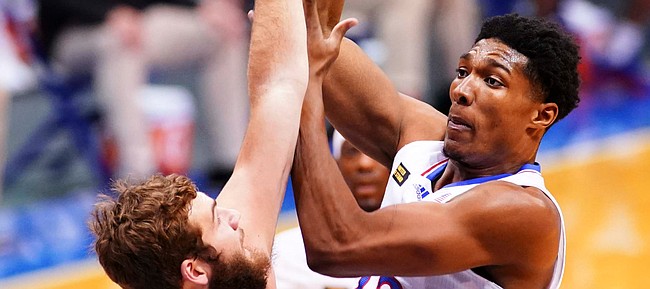 Junior forward David McCormack's 17 points on Thursday made him the fourth different leading scorer in four games for seventh-ranked Kansas, which ran past Washburn, 89-54, in the home opener at Allen Fieldhouse.
In Game 1 it was Marcus Garrett with 22 points against Gonzaga. In Game 2 it was Christian Braun's 30-point explosion against Saint Joseph's. On Tuesday night, Jalen Wilson broke out with 23 points to help Kansas beat Kentucky.
And on Thursday, in front of about 100 family members of players and coaches, McCormack hit seven of the eight shots he attempted, including the first on an alley-oop to open the game, en route to a 17-point night that he badly needed.
"He was better," Kansas coach Bill Self said of his starting big man. "I still think he can do a lot better job with his balance and stuff, but he was good tonight. They were real baskets that he got tonight."
Like it is every game, getting the ball to McCormack early and often was the game plan for the Jayhawks (3-1) on Thursday night.
Freshman guard Bryce Thompson said Self continues to emphasize that in practice and film sessions and many of McCormack's teammates will say they take pride in finding a way to get him going.
But during KU's first three games that wasn't happening. McCormack shot 6-of-24 from the floor and turned it over nine times.
It did on Thursday. And McCormack's obvious size advantage played a part in that. But the junior forward said after the game that his mental approach did as well.
"I know that I'm harder on myself than anybody else is," McCormack said. "I think it just came down to putting pressure on myself. I know I just need to have fun and take the pressure off the game and enjoy everything that's going on."
Is that what happened Thursday against Washburn?
Photo Gallery
Kansas v. Washburn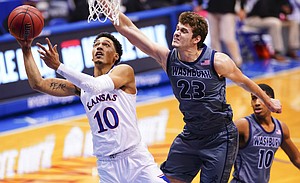 View a gallery from Thursday's game between the Jayhawks and Ichabods at Allen Fieldhouse.
"Tonight was definitely fun," he said. "I just enjoyed playing with my team, forgot about everything else and just had a good time."
In addition to his solid night shooting the ball, McCormack grabbed six rebounds and a block, all in just 18 minutes on the floor.
"I think it was definitely big for me," he said of playing well against the Division II Ichabods, who did not have to count the game on their season record and remain 3-0.
Added Thompson: "He came out first play of the game and set the tone with the big lob. He was everywhere tonight. He was big and we're going to need that from him going forward."
McCormack, who also flushed another alley-oop lob in the early going, was just one of four Jayhawks in double figures on Thursday night, and Kansas hit 13 of 26 3-pointers, with Ochai Agbaji (4-of-6, 16 points), Jalen Wilson (3-of-5, 13 points) and Christian Braun (3-of-5, 9 points) combining for 10 of them.
"When (Jalen) and Christian and Och are shooting the ball like they shot tonight, it adds a whole new dimension for us," Self said.
KU shot 52% for the night overall and held Washburn to 33% shooting.
Thursday's win in their home opener marked the 48th consecutive season that Kansas had won its first game of the season in Allen Fieldhouse, dating back to the 1973-74 season.
Most of those had 16,300 fans there to watch and celebrate the outcome. In this one, however, because of ongoing concerns about the COVID-19 pandemic, only family members of players and staff were allowed in the building.
That made for a strange experience, even by 2020 standards.
"It was definitely different, not what I was used to," Thompson said after his first career game in KU's historic home building. "You know, I came to Late Night and saw all the fans."
Added Self, when asked what he thought of Thursday's setting: "I thought that it was not great by any stretch. But the atmosphere here was 10 times better than it was in Indy (on Tuesday vs. Kentucky). In Indy there was none at all. At least we had some cutouts and had a couple people in here, so that that was a positive. But, yeah, it's not the same. It's certainly different. But it was just good to play and it's good to play in the Fieldhouse and shoot on some rims that we're a little bit more comfortable with."
Next up, Kansas will return to Allen Fieldhouse on Saturday to take on North Dakota State (0-3) in another game with family members only in the stands. Tipoff is slated for 3 p.m.
Prior to Thursday's game, KU officials announced that fans would be allowed back into Allen Fieldhouse for men's and women's games on a limited capacity basis the week of Dec. 7-14.