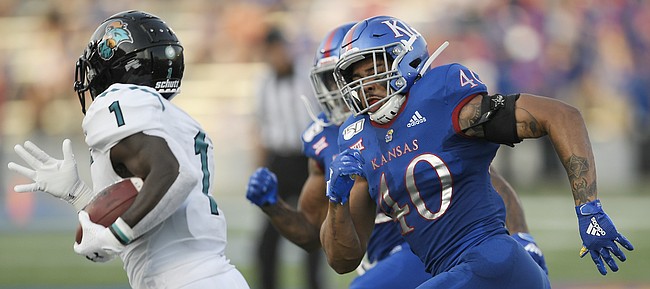 One of the most important defensive players on the Kansas football roster is missing camp reps right now, but the Jayhawks shouldn't be without Dru Prox for long.
KU coach Les Miles revealed during his Wednesday video press conference that Prox, a senior linebacker, is "a little nicked," but the staff expects Prox will be back in the mix soon.
An inside linebacker from Kaufman, Texas, Prox was trending toward a breakthrough season in 2019 when he suffered what appeared to be a shoulder injury in KU's Big 12 opener. Prox ended up missing the final eight games on the schedule.
Miles said KU applied for a medical redshirt on Prox's behalf and between that and the NCAA's recent decision to grant a blanket waiver that gives fall sports athletes an extra year of eligibility due to the COVID-19 pandemic, the coach expects to see much more of Prox in a KU uniform.
"It sounds like to me he may have one or two years," Miles said. "We're thrilled."
In just four games a season ago, Prox, listed at 6-foot-1 and 215 pounds, racked up 39 total tackles and two sacks, with a forced fumble.
"We missed him a lot," outside linebacker Kyron Johnson said of KU playing without Prox for its eight final Big 12 games.
Johnson said it was hard for him to put into words how important Prox is to KU's defense.
"At the end of the day he's gonna get healthy and he's gonna be back playing with us. He is a big factor on the defense, because as you can tell last year, the dude was flying around making all the plays," Johnson said. "For sure when he comes back he's gonna be a huge factor on the defense."