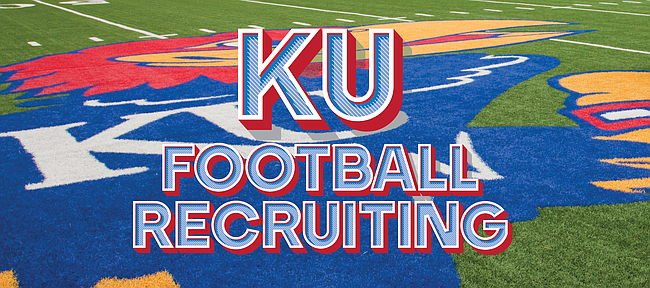 Add another state to the recruiting footprint being left by the Kansas football program's 2021 class.
A high school safety from South Carolina, James Wright announced Wednesday via Twitter his plans to join the Jayhawks.
KU's coaches already had secured commitments from players who call Alabama, Arkansas, California, Florida, Georgia, Indiana, Kansas, Louisiana and Texas home, making South Carolina the 10th state represented in the bunch.
Wright, listed as a three-star prospect by Rivals, is a 6-foot-1, 195-pound defensive back who was previously committed to East Carolina.
Although Lawrence is far from Wright's Sumter, S.C., home, the recruit told Jon Kirby of Jayhawk Slant the virtual visits he had with head coach Les Miles, safeties coach Jordan Peterson and the staff influenced his thought process.
"Everybody just treated me like family, and I got a lot of information," Wright said. "They broke it down specifically how I can fit in, what I can do, and how I can do it. Everything about it was good. I knew I wanted to go to Kansas after that."
Wright previously had offers from more than 20 other teams, but KU was the only Power Five program on that list.
The Jayhawks currently have 21 of their 25 spots in the recruiting class occupied, with 19 of those belonging to three-star prospects from all over the map.
All verbal commitments, of course, are nonbinding. The earliest that Class of 2021 football prospects can sign is Dec. 16.
KU football Class of 2021 commitments
(Rivals rankings)
• Majik Rector — 3-star Texas prep WR
• Ben Easters — 3-star Indiana prep QB
• Jaddai Henry — 3-star Texas prep WR
• Kelan Robinson — 3-star Texas prep WR
• Devin Neal — 3-star Lawrence prep RB
• Mason Brotherton — 3-star Arkansas prep TE
• De'Kedrick Sterns — 3-star Texas prep OL
• Edgar Amaya — 3-star Alabama prep OL
• Andrew Simpson — 3-star California prep LB
• Trey Staley — 3-star Georgia prep LB
• Omar Burroughs — 3-star Florida prep DB
• Keon Coleman — 3-star Louisiana prep WR
• Devonte Wilson — 3-star Florida prep DB
• Kameron Grays — 3-star Alabama prep DB
• Christien Hawks — 3-star Norton prep OT
• D'Marion Alexander — 3-star Texas prep LB
• Tommy Dunn Jr. — 3-star Texas prep DL
• Shad Dabney — 3-star Georgia prep DB
• James Wright — 3-star South Carolina DB
• Deldrick Withers — 2-star Arkansas prep DE
• Larson Workman — 2-star Texas prep OL