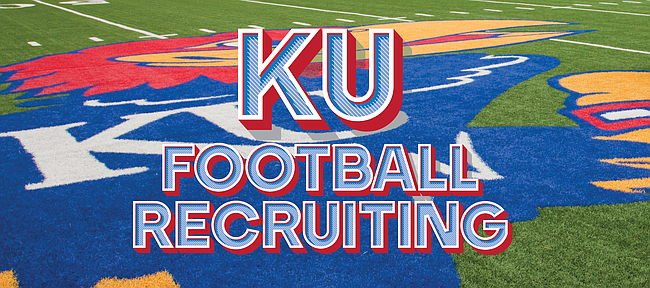 Social media platforms have become the online stage for most high school athletes to announce their college commitments.
Texas high schooler Tommy Dunn Jr., though, took his declaration to another level Saturday, committing to the Kansas football program via a 2-minute video he shared on Twitter.
The clip included not only a monologue from Dunn about his journey and decision, but also clips of the prospect working on his skills when he was younger, as well as more recent game and camp highlights.
"I'm proud to announce that I'm committing to," Dunn said near the end, pausing to allow a Jayhawk graphic that was edited to appear over his hands finish his statement.
Listed at 6-foot-3 and 280 pounds, Dunn has played both as a defensive lineman and tight end at Naaman Forest High School, in Garland, Texas. He thanked KU head coach Les Miles, as well as assistants Emmett Jones and Kwahn Drake in his commitment video.
Dunn also had scholarship offers from Air Force, Navy, Rice, Columbia and UT-San Antonio before giving his pledge to Miles and the Jayhawks.
"It feels amazing," Dunn said in an interview with Jon Kirby of Jayhawk Slant. "I couldn't stop smiling. As a small child, you know how hard it is to get to any D-I school. I worked so hard. And it's really paying off. I'm just very blessed in deciding that I'm committing to a Big 12 school. It's crazy and I'm just very excited."
While Dunn is unrated at this point by Rivals, he has received a three-star grade from 247 Sports.
Dunn became the 19th and newest member of KU's 2021 class. He told Jayhawk Slant the conversations he had with Jones and Drake through his recruitment helped him choose KU.
"They really trusted me, and they treated me well," Dunn said. "Me and Coach Drake, we have a great relationship. I never thought that I would have a relationship like this with a coach. We have a good bond."
KU's next recruiting class currently includes seven high school prospects from Texas, now that Dunn is on board.
All verbal commitments, of course, are nonbinding. The earliest that Class of 2021 football prospects can sign is Dec. 16.
KU football Class of 2021 commitments
(Rivals rankings)
• Majik Rector — 3-star Texas prep WR
• Ben Easters — 3-star Indiana prep QB
• Jaddai Henry — 3-star Texas prep WR
• Kelan Robinson — 3-star Texas prep WR
• Devin Neal — 3-star Lawrence prep RB
• Mason Brotherton — 3-star Arkansas prep TE
• De'Kedrick Sterns — 3-star Texas prep OL
• Edgar Amaya — 3-star Alabama prep OL
• Andrew Simpson — 3-star California prep LB
• Trey Staley — 3-star Georgia prep LB
• Omar Burroughs — 3-star Florida prep DB
• Keon Coleman — 3-star Louisiana prep WR
• Devonte Wilson — 3-star Florida prep DB
• Kameron Grays — 3-star Alabama prep DB
• Christien Hawks — 3-star Norton prep OT
• D'Marion Alexander — 3-star Texas prep LB
• Deldrick Withers — 2-star Arkansas prep DE
• Larson Workman — 2-star Texas prep OL
• Tommy Dunn Jr. — Texas prep DL