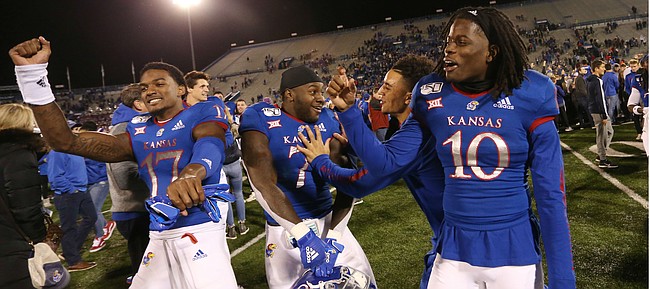 It's easy, on Aug. 20, for anyone on the Kansas football team to say in a mostly empty room that they're going to be smart and safe during the upcoming season so the Jayhawks can actually play football this fall.
But it's something else entirely to ask those same guys, and dozens like them, to do it after a Saturday night victory.
However, to a man, the six Jayhawks who were asked about it on Thursday said it was both realistic and fair to expect the Jayhawks to prioritize safety and the season over nights out during the next few months.
"We've all made sacrifices to get to the level where we're at right now," said junior quarterback Miles Kendrick. "Whether that be in our social life or coming up to this point, we've all (made) sacrifices for football. Everybody's committed to this team, everybody's committed to this season and, for the love of football, I think we're willing to go as far as we have to go to make it happen."
Leadership will play a huge role in the process, and there are already stories circulating about a handful of players speaking up and holding their teammates accountable after minor missteps this summer.
If that continues, the season can, as well.
But senior linebacker Denzel Feaster said on Thursday that he and his fellow-upperclassmen realize that making sure the team stays smart and vigilant is about more than just barking out orders.
"I can't just talk it," Feaster said. "I have to walk it. If I'm going to expect other guys to do it, I have to do it myself and that's what I've been doing."
The challenge has been decidedly easier during the past couple of months than it will be this fall, when KU's campus and several other spots around Lawrence attract thousands of KU students.
These players realize that. And they're not pretending for a second that there will not be temptations. Instead, they're trying to be realistic. And responsible.
When asked Thursday if he thought it would be difficult for his teammates and him to lay low and not go out with their other friends this fall, senior offensive lineman Chris Hughes smiled, then shrugged, and uttered the words "of course it is" before even getting to the end of the question.
"It'll be tough," Hughes admitted. "But we welcome the challenge. Sometimes you have to sacrifice. We, as athletes, sacrifice every day, picking things that we can and can't do. So it's just another thing to add to that list."
Feaster said Thursday that KU's coaching staff had not yet named the captains for the upcoming season, but maybe that's just as well. Because instead of three or four players filling that role on a weekly basis as is typical, the Jayhawks are liable to need four dozen players with a captain's mindset in 2020.
"Not necessarily to control it or control them," Feaster said of the younger players. "But just to let them know that we have a bigger agenda and to kind of remind ourselves of what we came here for."
The fun of the college experience no doubt was a big part of why all of these players came to KU. But the COVID-19 pandemic has forced a change of plans for everyone, in just about everything, and it's time to adjust.
For years, many of these guys have lived by the football-is-life mantra. And for the past eight weeks, they have stepped lightly through a mine field of obstacles just to make sure they get the chance to play football this fall.
Weekly COVID tests, regular temperature checks, nonstop hand sanitizing and strict social distancing have been as big a part of the offseason as daily runs and extra film work.
And it seems clear that these guys understand already that going through all of that would go down as pointless if they planned to mess it up this fall.