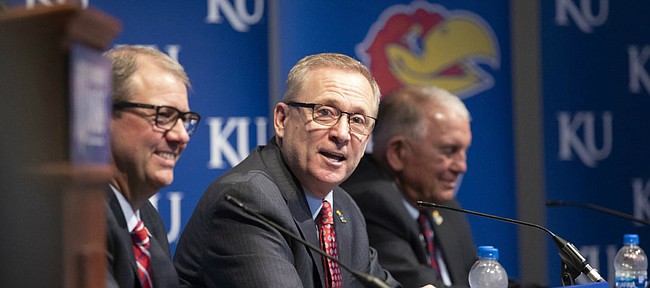 University of Kansas Chancellor Douglas Girod on Wednesday called an emergency meeting of the governing board that oversees Kansas Athletics seeking permission for Athletic Director Jeff Long to obtain a $20 million, short-term line of credit in case the COVID-19 pandemic significantly modifies the 2020 football and basketball seasons.
Girod's email calling the meeting did not hint at anything forthcoming in terms of significant changes to KU's football or basketball seasons and said that the $20 million line of credit Kansas Athletics will apply for is just to provide "emergency liquidity" in case the pandemic conditions do cause the seasons to be disrupted or canceled.
The credit, Girod said, would also allow Kansas Athletics to continue its operations in such a scenario without having to ask the university for financial assistance.
The university is facing a budgeting shortfall of at least $120 million on its own during the current fiscal year.
The meeting will take place through a group email, rather than an in-person or virtual meeting, to more quickly allow board members to vote on the two matters so they can be finalized and prepared for final approval at the board's Sept. 16 meeting.
How every board member votes will still be made public, as they must reply to everyone in the message — including the media — to be in line with state open meeting laws, Girod said. Votes must be submitted by 5 p.m. Friday.
Girod, as chairman of the board, also requested that members give Long permission to refinance nearly $30 million in outstanding bond debt, citing current low interest rates on bonds, lowering annual debt service payments, and restructuring payment terms.

If board members approve Long to undertake the financial restructuring, both the refinanced bond debt and emergency line of credit will be up for a final discussion and vote at the board's September meeting.