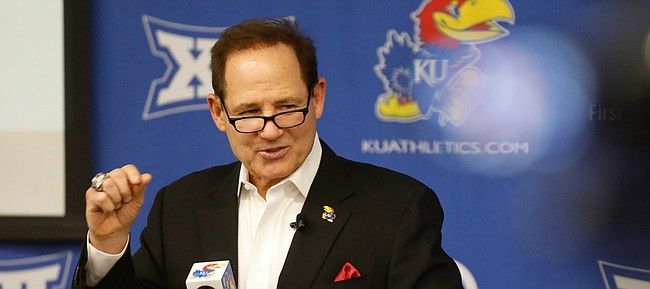 There's a reason the Kansas football program continues stockpiling Class of 2021 recruits amidst a pandemic that keeps the coaches from visiting with prospects in person.
When head coach Les Miles and his assistants are able to meet with a player and his family via video calls, a virtual tour and meeting can almost be as good as the real thing, according to KU's recruiting coordinator and tight ends coach, Josh Eargle.
"We've enjoyed doing these virtual junior days," Eargle told KU director of broadcasting and play-by-play voice of the Jayhawks Brian Hanni on a recent episode of "The Jayhawker Podcast."
"And it's fun to watch everyone get on and say hi to a young man and his family."
Eargle said the KU staff's passion comes in handy during recruiting and, of course, it helps to have a head coach with Miles' track record, dating back to his many years at LSU.
"We've got one of the best closers in the business," Eargle said of Miles and his ability to finish off a successful recruiting push. "He's so genuine and relationship driven that it comes through in his conversations."
While providing a peek into what goes on behind the scenes with KU's recruiting efforts, Eargle said Miles' "ridiculous" work ethic looms large. Eargle said his boss' day is planned out "minute by minute" and it's commonplace to spot Miles going straight for his phone to make a recruiting call every time there's a break in the schedule.
When the Jayhawks started up with preseason practice days earlier this summer, Eargle said Miles would return to the KU facilities after dinner and spend the evening making calls.
The NCAA put an end to normal recruiting practices way back in March due to the COVID-19 pandemic, yet since then KU has added more than a dozen verbal commitments for 2021.
Miles may be the closer, but as KU's head coach said on "The Jayhawker Podcast," the rest of his staff puts in the work to make that possible.
"Every time you walk in and you call a kid, they're talking about my assistant coaches," Miles said. "Talking about Chevis Jackson and Josh Eargle and Brent Dearmon and those guys. And it's so much fun as the head coach to follow behind and make sure these guys who have worked so hard are now having that head coach come alongside. Let's go."
As Eargle detailed during the interview, there are plenty more staff members in non-coaching roles who keep the recruiting train chugging along. Watching footage of hundreds of potential high school recruits is a monumental task, and Eargle said director of scouting Drew Hixson, director of recruiting Will Redmond and director of player personnel Dave Shumate sift through prospects in the initial stages of the process.
Communicating and staying in touch with high school coaches is a must, too. Eargle credited KU's director of high school relations, Dirk Wedd, a longtime prep coach in the Sunflower State and the former head coach at Lawrence High, with forging important relationships in the area and making sure prep coaches know that KU wants to find future Jayhawks in their backyard.
And when recruits are finally allowed to visit campus again, Eargle expects director of on-campus recruiting Erin Dunston, director of recruiting operations Brenae Williams, assistant director of on-campus recruiting Hannah Tourtillott and recruiting assistant Megan Mueller to continue to make recruits and their families feel right at home.
The time and effort put in by the staff as a whole makes for a great feeling when KU lands a commitment, Eargle said, adding it's a time to "go nuts."
"That is a win," Eargle said, likening it to a victory on the field in the fall.
KU football Class of 2021 commitments
(Rivals rankings)
• Majik Rector — 3-star Texas prep WR
• Ben Easters — 3-star Indiana prep QB
• Jaddai Henry — 3-star Texas prep WR
• Kelan Robinson — 3-star Texas prep WR
• Devin Neal — 3-star Lawrence prep RB
• Mason Brotherton — 3-star Arkansas prep TE
• De'Kedrick Sterns — 3-star Texas prep OL
• Edgar Amaya — 3-star Alabama prep OL
• Andrew Simpson — 3-star California prep LB
• Trey Staley — 3-star Georgia prep LB
• Omar Burroughs — 3-star Florida prep DB
• Keon Coleman — 3-star Louisiana prep WR
• Devonte Wilson — 3-star Florida prep DB
• Kameron Grays — 3-star Alabama prep DB
• Christien Hawks — 3-star Norton prep OT
• D'Marion Alexander — 3-star Texas prep LB
• Deldrick Withers — 2-star Arkansas prep DE
• Larson Workman — 2-star Texas prep OL