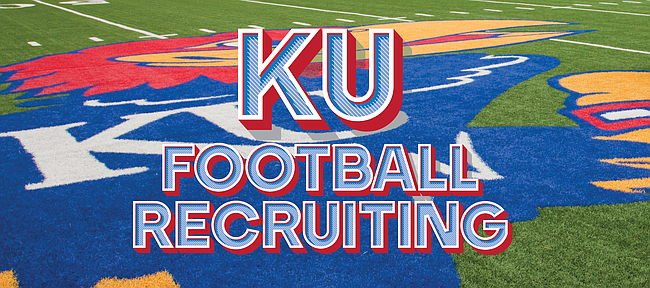 A couple of audible gasps emerged from the crowd Wednesday night when D'Marion Alexander pulled off his jacket to reveal he was wearing a TCU T-shirt.
The look didn't last, though, during a commitment ceremony the prep linebacker from Texas broadcasted live via his Instagram account.
Cheers soon followed when Alexander removed his Horned Frogs gear to show that he was sporting a black T-shirt with a Jayhawk underneath.
"I want to thank you all for being here with me on this special day," Alexander said. "Let's go. Rock chalk."
The little fake commitment prank from the three-star Rivals prospect even seemed to work on KU outside linebackers coach Chidera Uzo-Diribe, who tweeted shortly after, "28 years old and damn hear had a heart attack."
Actually, Alexander told Jon Kirby of Jayhawk Slant it was his relationship with Uzo-Diribe that influenced his decision to pick KU over TCU and Arizona State.
"It's real with him and we are like family," Alexander said. "We text every single day. I FaceTime him every single day. He did a great job."
Previously committed to Minnesota, Alexander, a 6-foot-4 outside linebacker from China Spring, Texas, also had offers from Texas Tech and Baylor, too.
Shortly after his announcement, Alexander tweeted out a post about his commitment.
"I am beyond blessed to say that I will be continuing my academic and athletic career with the University of Kansas," Alexander wrote in a note, describing his recruitment as "1,000%" shut down.
Alexander became the 18th member of KU's 2021 recruiting class and the sixth from the state of Texas.
All verbal commitments, of course, are nonbinding. The earliest that Class of 2021 football prospects can sign is Dec. 16.
KU football Class of 2021 commitments
(Rivals rankings)
• Majik Rector — 3-star Texas prep WR
• Ben Easters — 3-star Indiana prep QB
• Jaddai Henry — 3-star Texas prep WR
• Kelan Robinson — 3-star Texas prep WR
• Devin Neal — 3-star Lawrence prep RB
• Mason Brotherton — 3-star Arkansas prep TE
• De'Kedrick Sterns — 3-star Texas prep OL
• Edgar Amaya — 3-star Alabama prep OL
• Andrew Simpson — 3-star California prep LB
• Trey Staley — 3-star Georgia prep LB
• Omar Burroughs — 3-star Florida prep DB
• Keon Coleman — 3-star Louisiana prep WR
• Devonte Wilson — 3-star Florida prep DB
• Kameron Grays — 3-star Alabama prep DB
• Christien Hawks — 3-star Norton prep OT
• D'Marion Alexander — 3-star Texas prep LB
• Deldrick Withers — 2-star Arkansas prep DE
• Larson Workman — 2-star Texas prep OL