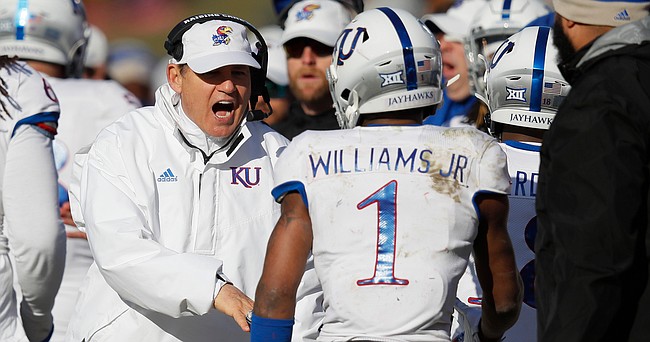 Despite the decisions by the Big Ten and the Pac-12 to call off fall football, the Big 12 appears to be forging ahead toward a football season during the COVID-19 pandemic.
Hours after two of college football's Power Five conferences canceled their games for at least the remainder of 2020, Big 12 leadership decided Tuesday night over a teleconference to stay the course, according to tweets from several national sports reporters, including Sports Illustrated reporter Ross Dellenger.
Dellenger reported that before Big 12 presidents approved moving forward with a season, the conference's athletic directors were briefed for 90 minutes by a medical panel. The debate that ensued, Dellenger reported, led to more protocols involving heart imaging tests for those who test positive for COVID-19.
Yahoo Sports reporter Pete Thamel said in a tweet that Big 12 leadership would be moving forward with a previously planned — but not yet announced — revised schedule.
The two other conferences in the Power Five, the SEC and the ACC, have both come out in favor of playing a fall season.
The Kansas football team is expected to open its season versus Southern Illinois, but not on the originally scheduled Aug. 29 date.