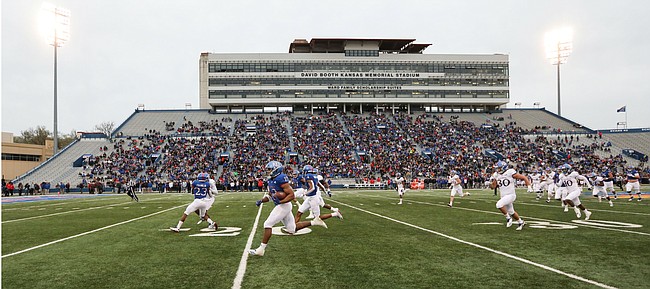 As the fate of their season is debated by Power Five conference leaders, with momentum possibly building for a fall without college football, some players began this weekend voicing their desires to play, despite the COVID-19 pandemic.
While Clemson quarterback Trevor Lawrence, Ohio State QB Justin Fields, Oklahoma State running back Chuba Hubbard, Alabama running back Najee Harris and other high profile college stars became the prominent voices of a "We Want to Play" movement, some lesser known players from the University of Kansas used social media to share their thoughts, too.
Even before Lawrence, the possible No. 1 pick in the 2021 NFL Draft, sent his viral tweet that included players' desires to ultimately create a college football players association, a true freshman QB at KU used his Twitter platform to react to the growing concern that a season could be lost.
"I just wanna ball," KU QB Jalon Daniels posted Sunday morning.
By Monday, other young Jayhawks used the "We Want to Play" mantra that took off nationally to echo that sentiment. Freshman receiver Steven McBride simply tweeted that trending hashtag, while fellow freshman wideout Quentin Skinner used it, too, accompanied by the message, "Glad to have people around me that make me better."
No KU football players or coaches have yet been made available for interviews this summer, even though the program's preseason practices began on July 31.
Requests made by the Journal-World for a comment from KU Athletic Director Jeff Long on the likelihood of the season being played were declined.
The Detroit Free Press reported Monday the Big Ten will cancel football this fall. National sports radio host Dan Patrick reported the Pac-12 will do the same.
Yahoo's Pete Thamel reported the Big 12 is "divided" on whether to play football in 2020.
The Dallas Morning News' Chuck Carlton reported that Big 12 athletic directors and medical consultants will have a Tuesday teleconference with presidents and chancellors.