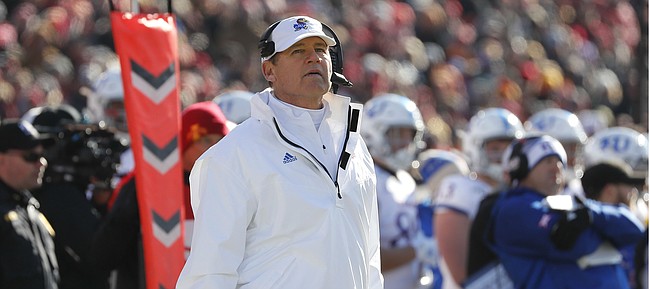 It could be much longer than expected before Kansas football head coach Les Miles can lead the Jayhawks into his second season with the program.
According to a Sunday evening report from Sports Illustrated, a decision to cancel all NCAA Division I fall sports, including FBS football, because of the COVID-19 pandemic could come as soon as this week.
SI's Pat Forde and Ross Dellenger reported one anonymous Power Five conference commissioner said college football has reached a "critical stage" and the boards for the conferences will be meeting in the days ahead.
"We have work to do that is no fun," the conference commissioner told SI.
A day after the Big Ten had its football programs pause preseason practice progressions to hold off on hitting in full pads, SI reported Sunday that its sources say the Big Ten is moving closer to canceling the 2020 season. The Big Ten, per SI, is communicating with leaders of other Power Five conferences to possibly make a uniform decision later this week.
The MAC on Friday became the first FBS conference to cancel conference play this fall due to the pandemic.
Big 12 commissioner Bob Bowlsby told the Austin American-Statesman's Kirk Bohls Sunday night the MAC's move is something Power Five commissioners will consider, but "I don't know if it makes our decision for us."
Bowlsby also told Bohls the Power Five conference commissioners had a regularly scheduled conference call Sunday, and they "haven't made any decisions yet."
Bowlsby also expects the Big 12 to complete its fall football schedule this week, Bohls reported. But Bowlsby also was asked about the likelihood of there being college football this fall.
"I don't have anything other than our experts' opinions to draw upon," Bowlsby said. "Have we made progress? Probably not. Have they told us to shut it all down? No, they have not."

Dennis Dodd of CBS Sports reported two Power Five commissioners downplayed the nature of Sunday's conference call, and that there was no indication on whether conferences will have a united announcement.
The Jayhawks began preseason practices on July 31 in preparation for an Aug. 29 opener that reportedly would be moved back if the season isn't called off.