Kansas offensive lineman Hakeem Adeniji is headed to Cincinnati.
The 6-foot-4, 302-pound tackle who started all 48 games of his KU career was drafted by the Bengals with the first pick of the sixth round on Saturday, No. 180 overall. Adeniji was the 17th tackle taken in the 2020 draft and was the lone offensive lineman selected by the Bengals this year.
In a post-draft online video chat with media members, Adeniji said he was thrilled to be part of the Bengals' offensive rebuilding project.
"It's great," he said. "I feel like we're starting something new. I'm going to come in and do my part, and in a few years here, I think you'll start to see the tide turning."
Adeniji is the sixth Jayhawk since 2010 to be drafted into the NFL and the first since Dallas made Dorance Armstrong Jr. a fourth-round pick in the 2018 draft. He is the first KU lineman drafted since Tanner Hawkinson was selected in the fifth round of the 2012 draft, also by Cincinnati.
Adeniji also becomes the 110th college player coached by Les Miles to be drafted.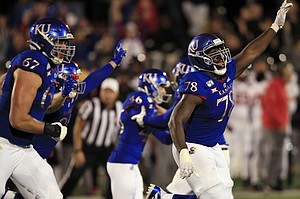 In a statement Saturday, Miles said Adeniji "has what it takes to play in the National Football League for a long time."

"We couldn't be happier for Hakeem," Miles said. "He's a great young man who was a leader on and off the field for our program."
Adeniji, who hails from Garland, Texas, played his entire Kansas career at tackle. He started on the right side of the O-line as a true freshman before moving to left tackle for the final 42 games of his KU career.
Despite being a mainstay on the outside at Kansas, he showed the ability to move inside during workouts, at the NFL combine in February and at the Senior Bowl, where he played and practiced at guard and even center.
And on Saturday, his hard work and versatility paid off.
"This has always been my dream, and I've always worked for it and put in that time that it takes," he said Saturday.
If Adeniji makes the Bengals' 53-man roster, he will play with the No. 1 overall pick, LSU quarterback Joe Burrow. Former KU quarterback Carter Stanley, whom Adeniji was in charge of protecting during the past few seasons, told the Journal-World on Saturday that he thought his friend would approach the task of blocking for Burrow as a fun challenge.
"He'll be just fine," Stanley said. "His preparation in the weight room and film room will put him in a great position to be a pillar of that offensive line for years."
According to ESPN.com's draft projections, Adeniji went 27 picks earlier than projected and two spots ahead of where he was slated among the offensive tackles eligible in this year's draft.

Asked on a recent episode of The Jayhawker Podcast what the team that drafted him would be getting, the 2020 All-Big 12 lineman emphasized his off-the-field attributes as much as what he can do as a blocker.
"They are going to get a good, high-character football player that cares about his community and team," Adeniji said. "Someone who's going to have a relentless pursuit of success.
"My ultimate goal is to play in the NFL. But I want to hoist a Super Bowl trophy up," he added. "That's my biggest dream."
Stanley said he thought Adeniji was in position to make that dream come true, too.
"I can't think of a guy more deserving of this opportunity," Stanley said. "He was extremely dedicated in everything he did, and I truly believe he'll have a great NFL career because of his drive to be great."