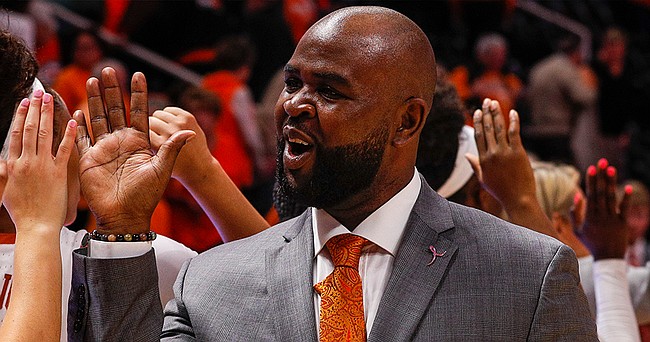 The Kansas women's basketball team is bringing in a familiar face as its new assistant coach — Terry Nooner, who also served as an assistant in the 2012-13 season under Bonnie Henrickson.
KU women's coach Brandon Schneider announced Nooner's hire on Thursday night.
"Happy to go back home," Nooner tweeted shortly after the hire was announced. "RCJH."

Nooner replaces Larry Tidwell, who left the program to return home to Texas to be with his family after one season at KU. Nooner's responsibilities will include recruiting, scouting, game preparation, skill development and working with the forwards.
"I've told Terry on several occasions that we'd like to bring him back to KU," Schneider said in a news release announcing the hire. "This time, the timing is perfect for him, his family, and Kansas women's basketball. Terry is an elite recruiter, a terrific teacher, and an outstanding coach on the floor. He has been extremely successful at every stop in his basketball journey, and I'm excited about the positive impact he's going to have in every phase of our program."
Nooner's most recent job was as an assistant at Texas during the 2019-20 season. In addition to his previous stint at Kansas, Nooner has made stops at Maryland (2015-18), Alabama (2013-15) and Southern Illinois (2011-12). He also spent the 2018-19 season at the professional level with the NBA's Cleveland Cavaliers as a player development coach.
"My family and I are extremely excited about the opportunity to come back home and be a part of the Kansas women's basketball family," Nooner said in the release. "Coach Brandon and I have always had a great relationship, and I am excited to be a part of his staff. It's been a full circle kind of thing. It's going to be a fun opportunity coming back to Lawrence."
During his playing days, Nooner was a guard and team captain for former KU coach Roy Williams from 1997 to 2000. He helped lead the Jayhawks to a Sweet 16, four NCAA Tournament appearances and three Big 12 Championships.
One of his former KU teammates said in the release that his return to Lawrence was a good fit.
"Terry is just a great hire to anybody's staff," former KU forward Nick Bradford said. "His knowledge of the game, how he relates to kids and represents a program is top-notch. KU is lucky to have him on staff."