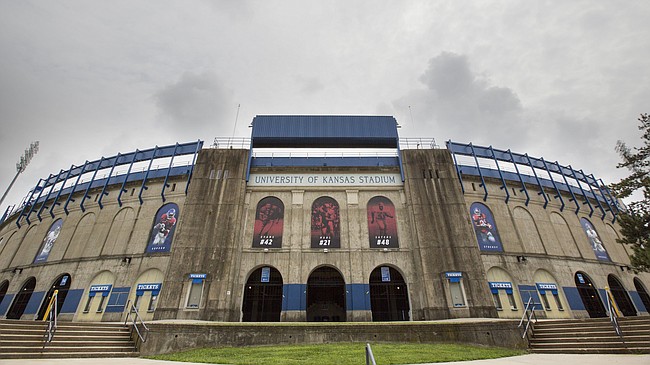 A legal battle over the termination of former Kansas football coach David Beaty has cost Kansas Athletics and the University of Kansas upward of $350,000 in outside legal fees in the 13 months since Beaty sued the athletic department over his November 2018 firing.
Records obtained by the Journal-World through a Kansas Open Records Act request show Kansas Athletics retained Bryan Cave Leighton Paisner LLP, a Kansas City, Mo.-based firm, to serve as outside counsel on the case in October 2019 — roughly seven months after Beaty initially filed suit.
The mounting legal bills in the case — which is not yet near a trial date — already total over a tenth of what is being disputed in the litigation: Beaty's $3 million contract buyout.
Beaty, who went 6-42 in four seasons with the Jayhawks, has argued in the March 12, 2019, lawsuit, subsequent depositions and a recently discovered response to an NCAA Notice of Allegations that KU officials drummed up minor NCAA rules violations to retroactively fire him for cause — avoiding paying the $3 million buyout.
KU used its in-house general counsel — which regularly handles matters both for the university and the athletics department — to fight the case in its initial months before enlisting outside counsel, court records show.
As part of its contract with Bryan Cave Leighton Paisner LLP — also obtained by the Journal-World in the records request — KU was given a 10% discount on all billable hours, though a reason was not made clear.
The invoices from the firm have redacted the specific legal services the firm has provided, citing an exemption in the state Open Records Act. What they do show, however, is that as the case moves along, the firm has had to ramp up its billable hours.
Monthly invoices billed to the University's General Counsel office indicate the following charges:
• November 2019: $33,703.90
• December 2019: $44,106.25
• January 2020: $67,790.45
• February 2020: $57,006.87
• March 2020: $149,946.57
The invoices are typically sent to KU on the 9th or 10th of each month for the preceding month's charges. According to the March invoice, KU so far has paid $142,255.05 of its outstanding balance.
A KU spokesperson did not return a request for comment about whether the university's general expense fund or Kansas Athletics is footing the bill for the charges.