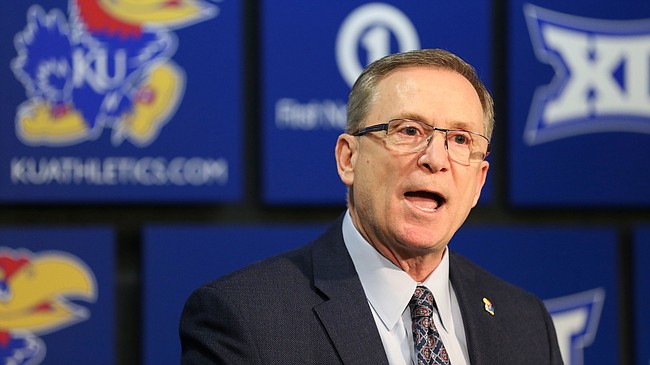 While colleges and universities across the country wrestle with the idea of cutting sports to save money in the midst of the COVID-19 crisis, University of Kansas Athletic Director Jeff Long said no such discussions had taken place in Lawrence.
"We have not explored cutting any sports here at KU," Long told the Journal-World on Friday. "There are other areas of our budget where we can cut expenses rather than eliminating any specific sports."
Two weeks ago, Long characterized the KU athletic department to be in "strong financial shape." Since then, universities across the country have started to make drastic cuts.
Earlier this week, the University of Cincinnati announced that it would cut men's soccer from its varsity sports lineup, bringing Cincinnati's list of athletic department sponsored sports from 17 to 16 beginning with the 2020-21 school year.
Although Cincinnati and Kansas compete at the same level and serve a similar number of sports and athletes — Kansas opened the 2019-20 school year with 16 varsity sports, six men's programs and 10 women's programs — the two universities are on vastly different footing when it comes to their financial picture.
The biggest reason for that is KU's spot in the Power 5 Big 12 Conference while Cincinnati competes in the American Athletic Conference. Thus, comparing the number of total school-sponsored sports at KU and Cincinnati is far from an apples-to-apples approach.
According to data from USA Today for the 2017-18 school year, KU's athletic department ranked 33rd among all Division I public universities, with $106.3 million in revenue.
The department's expenses that same year were slightly lower at $104.1 million, which also ranked 33rd nationally.
The total revenue brought in by Cincinnati's athletic department during that same year ranked much lower, with the Bearcats, of the AAC, bringing in $61.8 million and spending $64.8 million. Both numbers ranked 55th nationally.

While Cincinnati is by far the most high-profile university to announce the elimination of one of its athletic programs, others have done the same.
Old Dominion University recently eliminated its wrestling program and Division II St. Edward's University in Austin, Texas, this week cut six of its 16 sports.
Those moves, led by Cincinnati's, have led some college athletic directors across the country to wonder aloud if this is just the beginning.
"I think now that Cincinnati just did it, watch the next month," an unnamed AD from an FBS school told Yahoo Sports' Pete Thamel. "They cleared the way for other people to do it. Cincinnati puts it on a different level."
According to Thamel's report, the move to cut men's soccer eventually will save Cincinnati $800,000 per year, after honoring staff contracts and student-athlete scholarships through the 2020-21 season.
That kind of cash is significant.
Earlier this month, when discussing the NCAA's decision to allow spring sports athletes an extra year of eligibility to make up for missing out on the 2020 seasons, Long told the Journal-World that if every spring sports senior at KU chose to return for the 2020-21 school year, the department would take a $700,000-$800,000 one-year hit.
"Now, all of them are not going to come back," Long said. "And we understand that. But it's a challenge."
To meet that challenge, Long said he told leaders throughout KU's athletic department to begin exploring what cutting 10% of their budgets for next school year would look like.
If the crisis persists, Long said he was prepared to push the exercise to exploring cuts of 15-20%, too.
But in the interim, the second-year KU AD who has repeatedly pointed out that the support of KU's fans and donors has helped keep KU in sound financial shape said KU's focus remained the same.
"We will always continue to keep the highest priority on the health, safety and well-being of all our student-athletes," he said Friday.