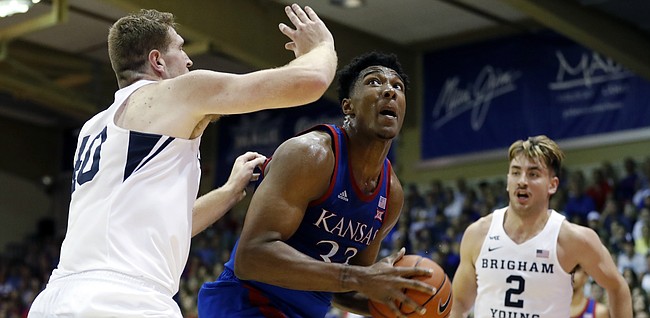 The Kansas men's basketball program may be losing its biggest player this offseason, but one of the few guys on the roster who can stand face to face with departing senior Udoka Azubuike will be back.
KU sophomore David McCormack on Thursday joined teammates Ochai Agbaji and Marcus Garrett in announcing his return to Kansas for the 2020-21 season.
"Me and my family have looked into my NBA draft prospects the past few weeks to get some input from the NBA teams on what areas of my game I need to improve on," McCormack said in a news release. "It was a great opportunity to hear from them and I'm looking forward to putting those on display this next season at Allen Fieldhouse. We have a great coaching staff who can help me and my teammates reach that next level."
A junior-to-be from Norfolk, Va., McCormack played in 29 of KU's 31 games this season, starting 18 and averaging 14.6 minutes per game.
The 2020 Academic All-Big 12 selection delivered seven games with 10 or more points and six games with seven or more rebounds. That included a career-high 28 points on 11-of-14 shooting against Kansas City and his first career double-double of 17 points and 11 rebounds in 16 minutes against Monmouth.
His overall numbers, which included season averages of 6.9 points and 4.1 rebounds per game, fell slightly short of what many people expected going into the 2019-20 season and were a direct result of KU coach Bill Self's decision to shift to playing more four-guard lineups during the second half of the season after starting out with McCormack and Azubuike in the starting lineup together.
"David had a really good year this past season," Self said in the release. "The reason he didn't play as many minutes was he had a first-team All-American (Azubuike) who had a really good year (in front of him)."
With Azubuike and his 13.7 points and 10.5 rebounds per game now gone, the 6-foot-10, 265-pound McCormack stands to be the first player to get a crack at filling the void.
A former McDonald's All-American who started the final 13 games of his freshman season when Azubuike was injured, McCormack has appeared in 63 games during his first two seasons with the Jayhawks.
Similar in size, but different in terms of style of play, McCormack has spent much of his first two seasons at Kansas playing alongside Azubuike while trying to keep from clogging up the paint. With Azubuike gone and the Jayhawks in need of a player to fill his role, McCormack's junior season could look a lot different from what Kansas fans have seen in the past.
In addition to being more of a focal point of the offense, McCormack figures to plant himself much closer to the basket on both ends of the floor, to be in position for easy buckets on offense and to clean up the glass and protect the rim on defense.
"I anticipate David being a guy we can play through," Self added. "And I believe he could be a double-double guy, similar to what Dok was, or real near to those numbers. He'll get them in ways Dok did not, which could also make our team more versatile."
With McCormack becoming the third Jayhawk in the past three days to announce his return for the 2020-21 season — and the fourth Kansas player to announce a decision about his future this week — Self said he was looking forward to fielding a lineup with a good mix of experience and incoming talent next season.
The Jayhawks have filled all 13 scholarships for the 2020-21 season, with seniors Garrett, Mitch Lightfoot and Silvio De Sousa joining juniors Agbaji and McCormack as the core of the team.
They'll be backed by top returning sophomores Christian Braun and Tristan Enaruna, incoming junior college transfer Tyon Grant-Foster, redshirt freshmen Dajuan Harris and Jalen Wilson and true freshmen Bryce Thompson, a 5-star prospect from Tulsa, Okla., Gethro Muscadin, a 4-star big man, and 3-star point guard Latrell Jossell.
"To have the remaining team returning and a good recruiting class, it puts us in a position not to take a step backward at all in our program," Self said in the release. "I look forward to Marcus, Ochai, David, Mitch and Silvio, our upperclassmen, taking ownership of everything that goes with this team and see where they can take it."