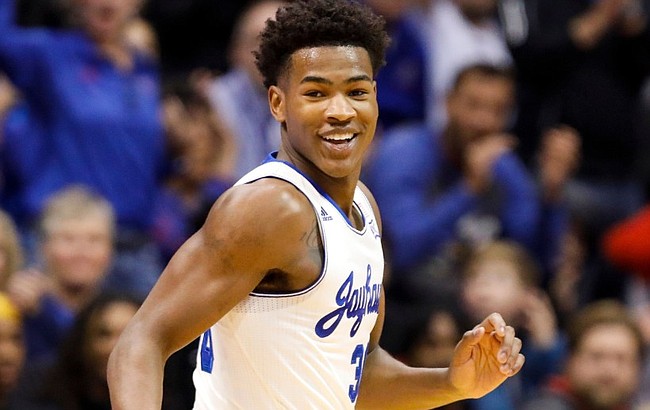 After two seasons as a role player and underclassman, Kansas guard Ochai Agbaji is eager to see what life is like as one of the Jayhawks' most experienced players.
That's why the 6-foot-5 guard from Kansas City, Mo., is planning to return to KU for his junior season instead of testing the waters of the NBA ahead of the 2020 draft.
Agbaji announced his decision just after noon on Tuesday, saying "we have some unfinished business to take care of," during a video announcement on Twitter.
"With that being said, I will be returning for my junior season," he added, before signing off with a "Rock Chalk."
After breaking onto the scene midway through his freshman season as an initial redshirt player, Agbaji has become a fixture in the Jayhawks' lineup.
He started 16 of 21 games during his first season in Lawrence and was in the starting lineup for all 31 games of his sophomore season in which KU finished 28-3 overall and 17-1 in Big 12 play while bringing the Big 12 title back to KU.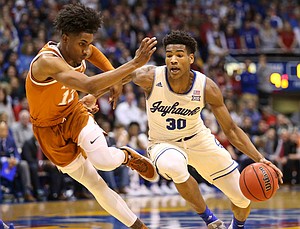 An honorable mention all-Big 12 selection in 2019-20, Agbaji finished KU's unfinished season averaging 10 points, 4.2 rebounds and 2 assists in 33.3 minutes per game for the top-ranked Jayhawks.
Agbaji also earned academic all-Big 12 honors this season.
Early in his KU career, Agbaji began showing up on NBA mock drafts with regularity. His 6-foot-5 frame, elite athleticism and versatility on offense and defense make him an attractive option for talent evaluators at the next level.
But a sluggish finish to Year 1 and an inconsistent second season on the offensive end have left Agbaji with some work to do in terms of polishing his game for a shot at pro ball.
"I looked into the NBA and was given some great feedback on ways I can be a better basketball player," Agbaji said in a news release after his announcement. "I know there are a lot of areas of my game I can improve and look forward to working with our coaches to reach that next level."
Prior to Agbaji announcing his decision to stay in school, ESPN.com draft analyst Jonathan Givony ranked him as the No. 85 overall prospect in the 2020 draft class. He also was listed as the No. 12 small forward in the 2020 class.
Returning to Kansas and taking on a bigger role during the 2020-21 season — as both a scorer and a leader — should pave the way for him to improve on both of those rankings.
"I believe Ochai could have been drafted but there are some things he knows he still needs to improve on," KU coach Bill Self said in the release. "He has taken a very mature approach to this. I believe Ochai is an NBA player and with a great year next season, hopefully he'll put himself in a position to do that."