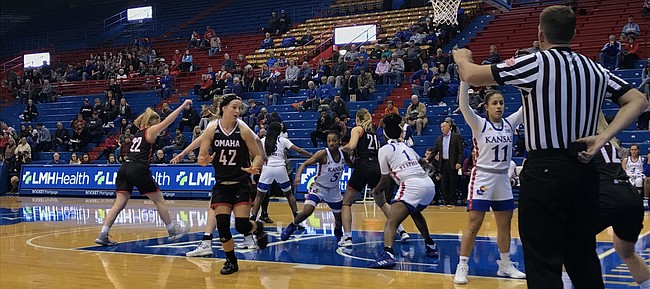 The Kansas women's basketball program on Monday announced that its top assistant, Larry Tidwell, was stepping down from his role as associate head coach.
Citing "personal reasons," Tidwell said in a news release that he planned to return to his hometown of Fort Worth, Texas, to be closer to his family during the COVID-19 pandemic.
"I am relocating back home to be with family during these troubled times," Tidwell said in the release. "This crisis has had an impact on my decision in going home to take care of family issues and put family first. I have been away and need to be in a situation where I can get to my family, who all live in Texas, in a hurry."
Tidwell came to Kansas before the 2019-20 season with more than four decades of coaching experience. In his first season with the Jayhawks, he helped lead KU to its best overall record (15-14) in seven seasons. The winning record had Kansas on the brink of a postseason appearance for the first time since 2013 before the health crisis led to the cancellation of all postseason basketball events and spring sports.
Kansas coach Brandon Schneider, who just completed his fifth season at KU, told the Journal-World on Monday afternoon that the process of replacing Tidwell was "in progress."
"Coach Tidwell has dedicated over 40 years to the growth and development of women's basketball," Schneider said. "We greatly appreciate the impact he made on our program this season, and we both respect and admire his decision to commit more time to his family."
During his lone year in Lawrence, Tidwell was a regular supporter all of KU's sports, on Twitter and in person. Those who knew him and spent time around him often marveled at how quickly he fully embraced all things Jayhawks. That, as much as anything, made the decision to leave a tough one for Tidwell.

"Leaving Kansas is extremely hard," he said. "It was so much fun to see the program this year, seeing them have their first winning season in seven years. I worked with an outstanding coaching staff. I've known Brandon for a while now, and it was fun to watch him coach.
"Things are so positive at Kansas, it's unbelievable. Just being a part of the tradition has been great, and I want to thank all who have made my time at KU amazing."
Tidwell began his career in Texas at the high school level before starting his long career in college basketball.
Before coming to Kansas, Tidwell spent a season at Texas Tech and five seasons as the head coach at UT-Rio Grande Valley.