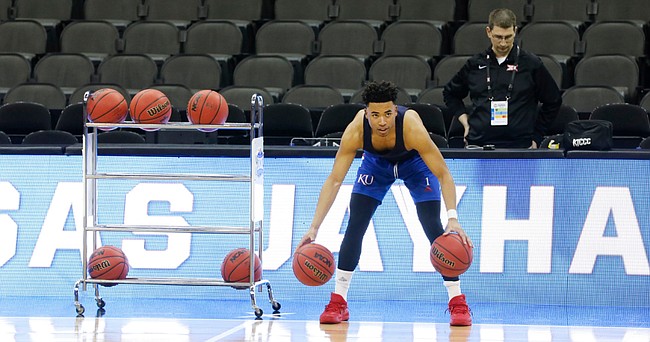 After two seasons of running the show as the point guard at Kansas, Devon Dotson is ready to test himself at the highest level.
Just after noon on Monday, Dotson announced that he was entering his name into the 2020 NBA draft pool and plans to forgo his final two seasons at Kansas.
"After talking it over with my family and (with) the full support of my coaches, I've decided to enter the 2020 NBA draft and pursue my lifelong goal of being an NBA player," Dotson said in an Instagram video announcing his decision.
A unanimous All-Big 12 first-team selection this season, the 6-foot-2 lead guard who originally hails from Chicago earned several All-American honors this postseason after leading the Big 12 in scoring at 18.1 points per game.
He also led the conference in steals per game (2.1) and free throws made (142) while ranking second in 20-point games, with nine, and field goal percentage at 46.8% for the season.
After starting all 36 games during the 2018-19 season and handling a bigger workload than any freshman point guard to play for Bill Self at KU, Dotson followed up his strong debut with a more polished second season.
He was on pace to play even more minutes in Year 2 than he did in his first year in Lawrence and finishes his Kansas career 14 points shy of joining the 1,000-point club in just two seasons.
"This decision came about from what Devon's goals were last year and what he was told by NBA personnel on what he needed to improve on," Self said in a news release. "And then he goes out and has an All-American year. I believe this was going to be a decision he made regardless of NBA feedback, but the NBA feedback he has received has been positive and I concur with him that this is the right time to pursue a professional career."
Last November in Maui, where Dotson helped lead Kansas to the Maui Invitational title, winning co-MVP honors with teammate Udoka Azubuike along the way, ESPN.com draft analyst Mike Schmitz told the Journal-World that Dotson needed to continue to strengthen his all-around game to carve out a spot in the NBA.
"He obviously has the speed and has done some good things at the college level," Schmitz said. "I think he just has to continue to get better."
In the latest ESPN.com mock draft, Jonathan Givony and Schmitz have Dotson listed as the second pick of the second round in this summer's draft, No. 32 overall.
"It's a really strong point guard draft," Schmitz told the Journal-World in November. "There's a ton of point guards in the first round."
Dotson nearly turned pro after his freshman season. But instead of leaving KU after one year, he pulled his name out of the draft pool on the night of the deadline to do so, indicating that he had "unfinished business" at Kansas.
A big reason for his return was the 2018-19 team's 26-10 record, third-place finish in the Big 12 race and second-round exit in the NCAA Tournament.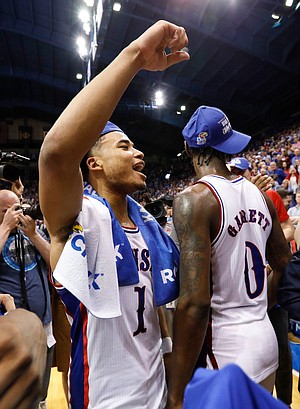 Dotson came to KU to win trophies and maintain the elite standard set by decades of players who came before him. Going out after one of the roughest years of the Self era did not sit well with him in the end, so he elected to return and helped bring KU back to the level of national title contender.
In addition to the Maui trophy, Dotson helped lead Kansas to a Big 12 title and, at 17-1, the most conference wins in a single season in Big 12 history.
Because of the COVID-19 crisis, he never got the opportunity to improve upon his NCAA Tournament record as a Jayhawk, but the individual accolades came pouring in.
Dotson said in his draft announcement that it hurt him to not get a chance to compete for a national title and that he believed KU would have been in Atlanta last Monday playing for a championship.
"We had the talent, players, the coaching and support staff to get it done and I would've given my everything to try to not let us lose," he said.
Dotson earned consensus second-team All-American honors after being named a Wooden Award All-American and earning second-team spots on the NABC, USBWA, Associated Press, CBS Sports and Sporting News All-American teams.
He also was named a first-team All-American by ESPN.com and Bleacher Report.
"I've grown tremendously these past two years with the help of Coach Self and the entire coaching staff," Dotson said. "They pushed me to be the very best on and off the court as a player and a person. During my recruitment, they painted a vivid picture of their plan for me. ... It all happened just as they said it would. For that, I will always be grateful and can't thank them enough."
The 2020 NBA draft is currently scheduled for June 25 in Brooklyn, N.Y., but because of the pandemic's impact on all of the typical individual workouts and the May pre-draft combine in Chicago, several NBA teams are lobbying the league to push draft day back to August, ESPN reported last week.
Hosting the draft at a later date could affect the timeline for decisions made by underclassmen who declare for the draft.
Those players have until 10:59 p.m. April 26 to declare for the 2020 NBA draft and until 4 p.m. June 15 to withdraw their name from the draft pool and return to college. The deadline to withdraw last year was May 29.
However, almost all of the dates and deadlines associated with the 2020 draft are currently up in the air as the NBA waits to see how the COVID-19 crisis plays out.

Under a new rule instituted last season, underclassmen are allowed to maintain their college eligibility even after hiring agents provided they terminate their relationship with the agent if they elect to pull their name out of the draft pool and return to school.
It does not sound like those deadlines will have much impact on Dotson's decision in the weeks ahead.
"Although I intend to sign with an agent and remain in the draft, this is not a goodbye as I'll always be a Jayhawk," he said.
Added Self: "We are all so proud and happy for Devon and what a year he had. We support and believe this is the correct decision for him to make. Although we only got two years from Devon, all Jayhawk fans should be very appreciative and wish him all the best moving forward."