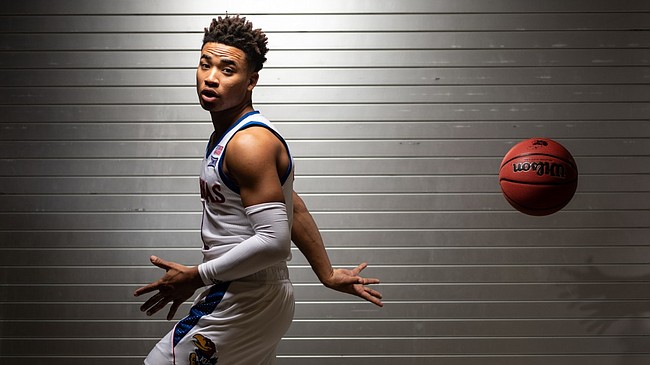 Kansas point guard Devon Dotson, who on Monday afternoon declared for the 2020 NBA draft, was groomed for the big time.
He and his older brother, Dalen, made sure of that during their childhood days back in Chicago.
Like many siblings, Dalen and Devon competed at everything. But few battles grew as intense as basement basketball in the family home.
Bloody noses. Fist fights. Screaming. Crying.
Those calamities, and more, were a regular part of the end-to-end games played by the Dotson brothers on a pair of Fisher Price basketball goals in their carpeted basement.
"We went at it pretty hard," Dalen told the Journal-World during a recent phone interview. "And I think that made him tough from an early age."
It wasn't just those games that prepared Devon for the life that awaited him. He and his brother had a plan for that, too, even if it was just two kids dreaming at the time.
"Before we'd play each other, we'd ride the bus to the game," recalled Dalen, who played his college ball at William Carey University in Mississippi.
The bus?
"Yeah. We'd go to another room and build a tent and act like we were on the plane or the bus and sit there for like 5-10 minutes," he said. "Then we'd do the introductions and play with our jerseys on and go full-speed. We always tried to get as creative as we could."
That meant headphones under the tent, loudspeakers for pregame and an All-Star weekend.
Those antics, and the sibling rivalry associated with them, continued through elementary school.
"Then it got serious and we went to the gym," Dalen said. "Sometimes this doesn't even feel real; I'm not sure it ever fully hit me that he was at Kansas. Ever since we were little, we dreamed of this and tried to act it out the best we could. To see it come to life is just amazing."
The beginning
Dalen played a huge part in Devon's development as a basketball player.
Beyond being the one guy Devon could count on for a game, Dalen's age and wisdom helped pull Devon through his earliest obstacles. Many of them stood a head or two taller and were a few years older.
"I always said I wanted my brother to be better than me," Dalen said. "And I knew if he played with my friends it would make him better."
According to their father, Dana, Devon always held his own. Whether it was in the driveway or playing up a couple of levels on the AAU circuit, it was clear early on that Devon could hang with anybody.
"As he kept moving up in age groups, he was not necessarily the best guard," said Dana during a sit-down interview with the Journal-World. "But we didn't really see anybody better."
There was one exception.
"I always told him, 'You'll never beat me no matter how good you get,'" Dalen recalled. "So if he ever got to game point when we were playing, I'd start fouling him. Hard. I don't think I've ever admitted that. But I used to foul the heck out of him."
And Devon never protested or called fouls?
"He's a younger brother," Dalen said. "What could he do?"
Eventually Dana called off the one-on-one games for the sake of safety.
"He plays through everything," Dana said of Devon. "He plays through contact, he never wants to sit or come out of a game. He does whatever makes him better. He's open to it all."
The earliest sign of Devon's resolve surfaced when he was 4 years old, playing up a couple of grades with his brother.
With a championship on the line, Devon woke up on the day of the title game with anxiety and stomach issues.
Instead of missing the game, the family came up with an alternative.
"It was a big deal," Dana said of the game. "And he still wanted to play. So we put him in a pull-up (diaper) and sent him out there."
The Dotsons won that game and Devon's journey as the youngest player on most of his teams roared on.
The inspiration
Devon made a name for himself at Kansas by attacking the rim at breakneck speeds against some of the biggest players in college basketball.
He got the idea from his favorite player — Chicago's own Derrick Rose.
"I used to go to some of his high school games and it started back then," Devon recalled. "I followed him at Memphis in college and I watched everything he did. Just the way he played was electrifying."
One of the first times Devon saw Rose play live came when he was 7 years old. Dana took his boys to watch Rose's famed Simeon High squad play in Chicago's city championship at UIC, and Devon was hooked.
"I just think he was in awe because this dude was really good," Dana remembered. "He just loved his style of play. He was up and down the court, he was fast, he was quick, he was athletic, he was getting to the rim. Devon had already kind of fallen in love with basketball, but I think from that point on he was like, 'Let me follow this guy.' There was just something about Derrick that caught his attention and fascination."
The Dotsons moved away from Chicago in 2011 — the same year Rose won the NBA's MVP award with the Chicago Bulls — but Devon, then a sixth-grader, never let the distance stop him from following his guy.
"I used to do everything like him," Devon said. "I used to wear all the gear he used to wear — ankle braces, the shoes, everything. I wanted to do everything he did."
That included playing like him.
Often regarded by analysts as small, Devon made sure his game was big enough to overcome that stigma. And he borrowed a thing or two from Rose's playbook to make it happen.
Asked to identify Rose's best skill in his heyday, Devon pointed to Rose's ability to attack the paint.
"He was one of the best ever to create something out of nothing," he said. "When a driving lane looked like it wasn't there, he would create it and finish at the basket."
Asked to name his own best skill, Devon smiled and said, "I would say it's attacking."
Playing up for good
The early challenges from his brother and others prepared Devon for everything he would face in his basketball future.
And people started to take note.
"Around sixth grade, he got on an AAU team that played high-level competition and that's when he started showing up as a Top 30, Top 50 player," Dana said. "And then in high school it started all over again."
Comfortable competing against players 2-3 years older, Devon never turned down a challenge.
Playing 15U AAU ball for former North Carolina point guard Jeff McInnis, Devon's time with players his age was short-lived.
McInnis' 16U and 17U teams often practiced together, but having known about Devon since shortly after his move to Charlotte, McInnis was always intrigued by the fiery point guard's potential.
So one day, after a 15U practice, McInnis asked Devon to practice with the older group.
"I told my assistant coach that day, 'Man, he's the best point guard on the court period,'" McInnis recalled in a phone interview. "He reminded me of Derrick Rose. He was so aggressive with the ball, so shifty, so fearless. He's Chicago tough. He just has what it takes to play the position and he's a winner."
Added Dana: "After that practice, Jeff was like, 'Hey, man, he's never going to play 15s again.' So at that point we knew he was pretty good."
The idea of playing above his age group has always been a part of Devon's story.
In addition to playing with Dalen at age 4, he won a dribbling contest put on by the Chicago Bulls at age 5. The contest was for kids 7 and older.
Playing up was a part of his football career, too. He played tackle football at age 6, thanks to his parents fudging his age on the registration form. And he stuck with the sport until 7th grade, when he transferred to United Faith Christian Academy, which did not offer football.
During his eighth-grade year at United Faith, where he was coached by former NBA standout Muggsy Bogues, Devon started on the junior varsity team and joined the varsity squad before the end of the season.
Recognition was tough to come by the older Devon got.
As a freshman in high school, he played on the varsity team with his brother at Providence High in Charlotte. And while he did well and played a key role for the Panthers, his numbers were nothing like those he would've put up against players his own age.
That cost him in the rankings, but his family kept him focused.
"Those rankings came out and he's not on them at all," Dana said. "He's a no star.
Eventually, like cream rising, Devon took his place in the recruiting rankings. But even that was a process, with Devon first earning a 3-star rating then jumping to 4-star status before finally becoming a 5-star prospect his senior year at Providence Day.
Despite friends and foes alike earning 5-star status faster, Devon never let it rattle him.
"During those days, they didn't give you love for playing up," McInnis said. "If I let him play 15s, he would've dominated and got all the love. But we knew we had a special player. We had a plan and I knew that he would catch all those other dudes ranked ahead of him at the right time."
Added Dana: "He just always embraced the challenge. And then when he got older, after the second and third year, then he was able to dominate and kind of say, 'Now it's my time.'"
If anything, not seeing his name where he thought it belonged fueled Devon and added another element to his fearless style.
As Devon prepares to make the move to basketball's highest level, where he will be reconnected with some of those names and faces ranked ahead of him all those years ago, he carries with him the lessons he learned from his unique path.
"Believe it or not, he still feels like he's underrated," Dana said.
Asked if the chip from those early slights was still a part of his approach, Devon's mother, Angie, jumped in and quickly added, "It has to be."