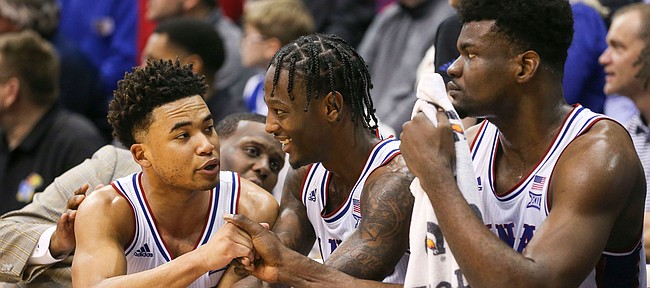 Who could ever forget the images of KU big man Udoka Azubuike waving his finger in the air after a big block during the 2019-20 Kansas basketball season?
Among dozens of memorable moments from the 28-3 season cut short because of the COVID-19 crisis, that might be one of the more lasting memories.
If the mere size of Azubuike's finger, and the arm and hand it was attached to, was not enough to get noticed, the gesture certainly was.
And it's something that Azubuike both did not show and likely would not have shown during his first three seasons as a Jayhawk.
The reason?
Injuries played a role in part of it. But it was more than that.
As an underclassman on a bunch of talented teams, Azubuike knew his place. He was a role player on someone else's team. And he was OK with that.
It fit his personality. It helped the team. And it kept the spotlight off him and allowed him to do what he did best without much attention — dunk on offense and keep opponents from doing that on defense.
But then his senior season rolled around and something changed. Azubuike became more outgoing. He embraced his last run as a Jayhawk, gave maximum effort pretty much every time he was on the floor and had a little fun in the process.
In the blink of an eye, the 2019-20 Jayhawks had become Azubuike's team. And even though his past suggested it might not be the case, he was ready to embrace it when the opportunity came.
As it turned out, that approach did more than springboard Azubuike to Big 12 Player of the Year and national All-American honors.
"There was a physical presence he had that gave us confidence," KU coach Bill Self said during a recent episode of "The Jayhawker Podcast" with Brian Hanni.
The joy with which Azubuike played the 2019-20 season, whether dunking or defending, trickled down to his teammates and brought the entire roster a sense of strength. In short, the message was this: As long as KU had Azubuike on the floor, no one else really had a chance.
The 7-foot center's willingness to embrace that and use it to carry his team cleared the way for a couple of his younger teammates to do the same, albeit in different ways.
"Marcus (Garrett) had the same thing and Dot (Devon Dotson) had the same thing," Self said. "They all had something inside of them that, through their cockiness or through their confidence or through their ability or through their appearance, whatever it was, we all knew that those guys would deliver when it counted."
The examples of that were endless and could last a single possession or carry Kansas for an entire game. But the Maui Invitational title game against Dayton, the road win at Baylor and the tough road win at West Virginia early in the Big 12 Conference season were the most obvious areas where KU's top trio delivered when they had to.
Like few Kansas teams before it, the 2019-20 squad was made up of pieces who fit perfectly into what they were asked to do.
And with Azubuike, Dotson and Garrett carrying the load on most nights — either together or interchangeably — that kept the pressure off the rest of the roster and created a team with very few weaknesses.
"I think that played a big role in everybody having confidence to be who they were on the team," Self said.