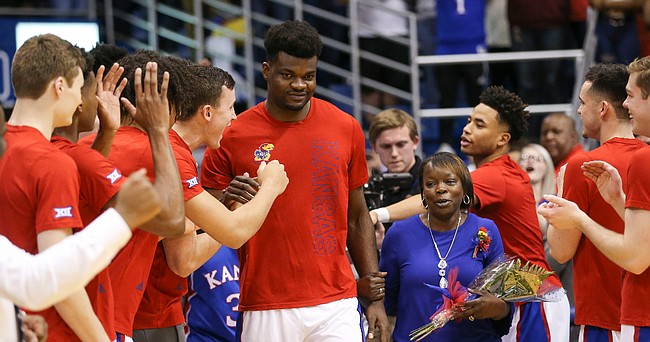 While the rest of the Kansas men's basketball team has returned home to be with family, KU big men Udoka Azubuike and Silvio De Sousa are still in Lawrence riding out the pandemic.
Kansas coach Bill Self told the Journal-World on Thursday that he texts with both players often and talks with them about once a week.
What Self has gleaned from those conversations is that the two Jayhawks wanted to stick around Lawrence because of their comfort level on KU's campus.
"We encouraged them both to go home when all of this started," Self said. "But they both wanted to stay just based on their comfort and the things that they would not have available to them if they left."
Home, of course, means different things to Azubuike and De Sousa than it does most of the rest of the KU roster. And Self explained that the home base he was talking about in this instance was back in Florida with their host families, not their native countries of Angola and Nigeria in Africa.
While they are riding out the COVID-19 crisis in a similar spot, the two KU big men are in different points of their playing careers.
Azubuike is coming off his best season as a Jayhawk and is riding the wave of being named Big 12 Player of the Year, multi-time All-American and a finalist for a couple of national player of the year honors.
As a senior, Azubuike is preparing himself for the jump to the professional ranks and sticking around Lawrence has provided him the best opportunity to do that.
"With Dok still needing treatment and things like that, rehab centers would be closed and those sorts of things (if he left)," Self said. "So he just wanted to stay until he was 100% healthy with his ankle and we totally agreed with that."
By staying in Kansas, Azubuike and De Sousa both also have regular access to gyms, where they can work on their games and conditioning.
In ESPN.com's most recent mock draft, Azubuike is projected as the No. 31 pick in this summer's draft — first pick of the second round — and there are plenty of analysts who believe he may have played himself into the first round.
Reports indicated that the NBA recently informed its franchises that all in-person, pre-draft workouts had been called off indefinitely.
As a senior-to-be, De Sousa is coming off his second consecutive disappointing season. The first was lost entirely because of an NCAA suspension over his guardian's role in the FBI recruiting scandal. The second, which was off to a slow start anyway, was overshadowed by his role in the Jan. 21 brawl between KU and Kansas State that led to him being suspended for 12 of the final 13 games of the 2019-20 season.
Shortly after the postseason was canceled in mid-March, De Sousa shared on Twitter his "love of the people that push me the most."
He continued: "I love every single one of the Jayhawk community. Teammates, FANS, Jeff Long, Bill Self."
All indications point to De Sousa returning to KU for his senior season in 2020-21.
"Silvio's going to be here a little while longer and then he'll probably try to head home," Self noted. "There's obviously nothing more going on in Florida than here as far as the ability to get in the gym and stuff like that."