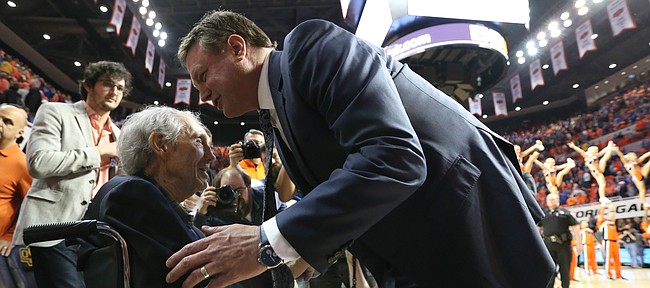 The wait is over for former Oklahoma State basketball coach Eddie Sutton, who on Saturday morning was announced as one of nine members of the 2020 class headed into the Naismith Memorial Basketball Hall of Fame.
The news delighted Kansas coach Bill Self, who himself was inducted into the Hall of Fame in 2017 and has spent parts of the last 10-plus years making the case to whoever would listen that Sutton belongs in as well.
"(I'm) one of the thousands who are very, very happy and offer our sincere congratulations to coach Eddie Sutton for his induction into the Naismith Basketball Hall of Fame," Self said in a video tribute put together by OSU. "It is an honor that is richly deserved, one that is long overdue and anybody that has played for you and/or coached under you knew that you were a Hall of Famer several decades ago."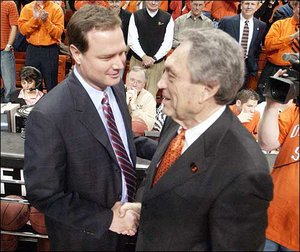 As often was the case, Self was asked during KU's most recent trip back to Stillwater, Okla., about Sutton's case for inclusion in the Hall of Fame.
He said then that so many of the things he learned from Sutton have played a huge part in his success at Kansas.
"He's an amazing coach," Self said of Sutton in late January. "I spent three years with him and the things we do every day are things that he taught us and taught me. As a coach, I'd like to make Coach (Larry) Brown proud and (former OSU coach) Leonard (Hamilton) proud and certainly Coach Sutton proud by watching my teams play (and showing them) something that they would respect."
So many of Self's pleas for Sutton and his 806 career victories during a 37-year NCAA Division I coaching career at Creighton, Arkansas, Kentucky, Oklahoma State and San Francisco came when KU and OSU matched up during the past couple of decades.
One that did not came in September of 2017, when Self was standing on the stage at his own Hall of Fame induction.
"It was so special watching him galvanize the community at Oklahoma State," Self said that night. "I, like so many, feel Coach Sutton should be in this Hall and hopefully someday will be."
That someday has arrived. Sutton will be enshrined at the Hall of Fame in late August with a star-studded class that includes NBA greats Kobe Bryant, Tim Duncan, Kevin Garnett, Baylor women's coach Kim Mulkey, former NBA player and coach Rudy Tomjanovich, Bentley women's basketball coach Barbara Stevens, NCAA and WNBA star Tamika Catchings and basketball contributor Patrick Baumann.
"We're all so happy for you," Self said in the OSU video. "And I know there are so many players that you've touched and coaches that you've touched that are celebrating tonight in a very, very difficult time in everyone's life. You brought so much joy to so many. We can't thank you enough. Congratulations. You deserve this."