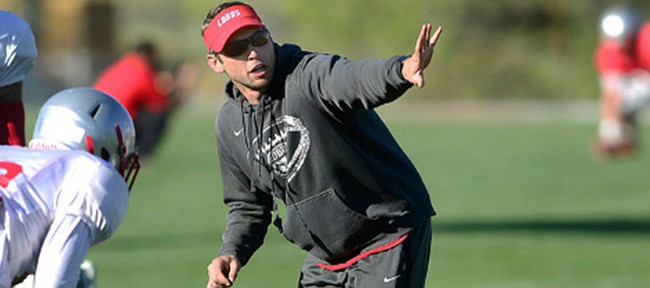 The Kansas football program's new safeties coach, Jordan Peterson, wants his unit to focus aggressively on forcing fumbles when the Jayhawks return to action.
A former defensive coordinator at New Mexico who was hired by KU in January, Peterson discussed his defensive philosophy in a video last week on the Kansas football program's Twitter account.
"We want safeties that are ball hawks, that consistently take the ball away," Peterson said.
Peterson spelled out a few of the principles he valued in his safeties — preparation, physicality, playing with a purpose and getting as many people on the ball as possible. He said he expected a "fanatical effort" from his unit.
"Get everybody to the football," Peterson said.
"... More hats to the ball gives us more opportunities to get the ball back."
And once the Jayhawks are on the ball, Peterson wants them to be aggressive and physical.
"We can't just be happy with securing the tackle," he said. "We've got to be violent. We've got to knock the opponent down to the ground violently. We've got to club, chop, rip, strip — get everything we can physically to separate the ball carrier from the ball."
In the video, Peterson went over two turnover-related drills he will use once KU football is able to practice again — a scenario that remains up in the air amid the COVID-19 pandemic.
In what's called the "second man drill," there are two defenders and a ball carrier. One defender is off the rusher while maintaining good position and trying to defeat the ball carrier's stiffarm, while the other defender punches at the ball.
"So the idea here is to try to time out the punch while the ball carrier is stiffarming the other defender," he explained.
The other drill, called the "circle chase," involves one defender facing a receiver and a trailing defender who tries to knock the ball loose once the offensive player catches a pass.
"The emphasis for the trailing defender is not to pull or tug on the jersey," Peterson said, "but to punch or tomahawk on the ball while the other defender maintains a good football position."
Peterson emphasized that his unit would have to have a clear goal in mind in order to succeed.
"We are always playing, running, pursuing the rock with a purpose," he said. "Knowing that no matter where the ball is, our primary objective is to score ourselves or get the ball back for our offense."
Tight ends coach and recruiting coordinator Josh Eargle also gave a glimpse of his strategies last week with a brief presentation on what KU's offensive coaches call "hybrids."
Basically, the Jayhawks often use fullbacks and tight ends as blockers in very similar ways.
"They're the nails that hold everything in this offense together," Eargle said of tight ends and fullbacks. "Just like a quarterback, they've got to know what everybody does and how they fit into that, and how their assignment fits into every single play."
Eargle showed clips of fullback Ben Miles and tight ends Mason Fairchild and Jack Luavasa. In each example, KU ran an inside zone play in which the players needed to read and react to form a crease for a running back.
Eargle also talked a bit about the Jayhawks' recruiting and predicted that KU's 2021 recruiting class would be the best in school history.
As of now, KU has five commitments in place for its next recruiting class: quarterback Ben Easters, running back Devin Neal and receivers Jaddai Henry, Kelan Robinson and Majik Rector — all are rated three-star prospects by Rivals.
"We want dominant players to join our program to have the opportunity to create success and build on that success and ultimately allow the staff to grow you into a football player that can lead you to the NFL," Eargle said. "If that's you, if you're that type of dominant player, then the Jayhawks are coming for you."
A KU assistant who actually has some NFL experience, defensive backs coach Chevis Jackson, provided in his video a peek at some individual drills he uses with the Jayhawks during practices.
Using four cones — or in this case toys Jackson found — he showed how players can address footwork and eye control to become more sound.
"We're getting a lot of work in, a lot of good reps, and we're preserving our legs," Jackson said. "Those drills teach you short area quickness and change of direction."