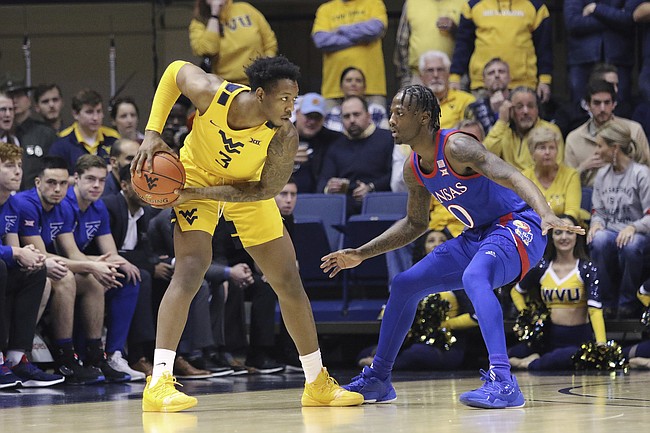 The first time Matt Watts realized his nephew Marcus Garrett could really play defense came when Garrett was 8 years old.
Playing with kids his own age, for his uncle Nakia Gibbs' parks and rec squad in Dallas, Garrett, now a junior at Kansas, wanted to make the jump to Watts' team.
One problem: Watts' team featured players a lot older than Garrett, who on Wednesday was named college basketball's Naismith Defensive Player of the Year.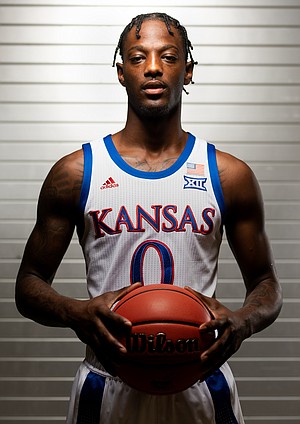 The three- and four-year age gap hardly mattered to Garrett, who believed he could hang with anybody. But Watts had to see it before he would entertain the idea of letting Garrett join his team.

So one day, after one of his practices, Watts set up a one-on-one game between Garrett and a seventh grader who was averaging around 20 points per game.
"I just remember telling Marcus, 'If you can take my best player and stop him from scoring, I'll let you play on this team,'" Watts recalled during a Wednesday evening phone conversation with the Journal-World.
The stakes were set. The showdown was arranged. One-on-one. First one to five wins. No whining. No questions asked.
"They checked the ball up and Marcus took his ball and went down and laid it in," Watts recalled with a laugh.
1-0, Garrett.
It only got worse from there.
"After the first one, the other kid was like, 'OK, that was luck,'" Watts recalled. "But Marcus beat him 5-0 and he had four steals."
True to his word, Watts allowed Garrett play up and helped shape him into a player good enough to average a triple-double his senior season at Skyline High in Dallas and tough enough to become a defensive stopper for Bill Self at Kansas.
The kid he beat went on to win a state title at DeSoto High and earned a scholarship to Wake Forest.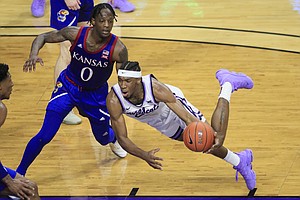 From then on, Watts put his nephew at the top of his press and Garrett collected "10 or 12 steals a game," the way Watts remembered it.
"And that was when he was an 8-year-old playing against 12-and-under teams," Watts said. "He's always been that type of kid that took pride in playing defense. He didn't want to get scored on. He wanted those bragging rights and to be able to say, 'My man didn't score on me.'"
According to Gibbs, that mentality was a part of Garrett's game as far back as 4 years old.
"Back then, at 4, 5 and 6, you couldn't go across half court to pressure on defense," Gibbs told the Journal-World in a Thursday morning phone interview. "So Marcus set up right at half court and waited for them. He wasn't going to wait back at the 3-point line."
Another aspect of Garrett's lockdown defense that emerged at an early age was his ability to guard taller, bigger players. And his first test was a talented Dallas native named Elijah Thomas.
"Big Elijah was the biggest thing in the league," recalled Gibbs of the power forward who went on to play at Clemson. "And we didn't have any size on our team, so guess who had to guard him? Marcus. At 4 years old."
Despite being more than two years younger and standing a full head and shoulders below him, Garrett held his own and never backed down from Thomas.
"The size of the other guy has never mattered to him," Gibbs said. "It's always been can he play? Marcus has always been a dog. And he never really had a choice but to be a dog because I don't do poodles."
Because of that, Wednesday's award came as no surprise to Gibbs and Watts.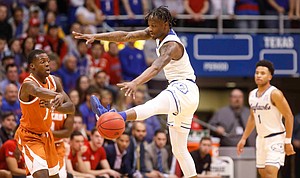 Watts said he received dozens of text messages shortly after the Wednesday morning announcement. And just hearing the words "defensive player of the year" took him back to his own thrill of being named the junior college defensive player of the year prior to his Division I career at San Diego State.
"I told him, 'This is sweet,'" Watts said. "To win defensive player of the year, that's something that takes a lot of effort, just to want to go and lock up everyone and do whatever your team needs to win."
Garrett knew that, of course. He also was not in the mood to break character and start bragging about himself.
"He just text me back and said, 'Thanks, unc,'" Watts said. "So I told him, 'If you're not going to show any emotion, I'm going to show you some.' And I sent him a bunch of emojis and things like that."
With just one year remaining in his career at KU, Watts said he expected Garrett's focus for the 2020-21 season to be sharper than ever.
Watts said Garrett considered testing his stock with the NBA but has decided to skip that step to focus on delivering his best season at Kansas
He still plans to be the team-first, whatever-it-takes-to-win type of player KU fans know. But, as a senior, he also plans to be more assertive when the time calls for it.
"Every time he's come home, he's played basketball nonstop," Watts said. "And I told him maybe this is the time to switch it up and be a little selfish. Maybe it should be, 'I'm just focused on strictly shooting, focused on my body, focused on eating right and staying healthy.'
"He wants to go back for his senior season and really enjoy playing for coach Self, but also to improve in every way he can. I think his senior year is going to be very special because he has a lot to prove."