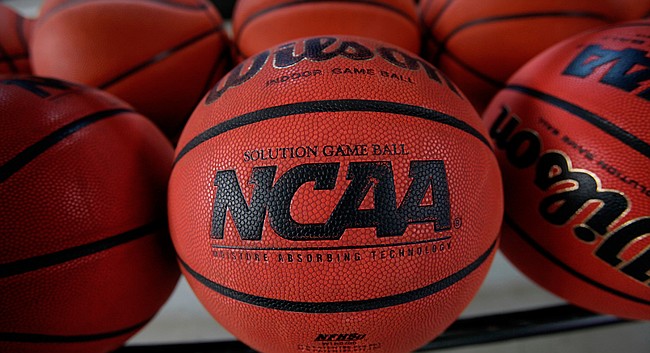 California's decision to allow college athletes to make money through endorsements could lead to many other states following in its footsteps.
But Kansas likely won't be one of them, said state Rep. Jim Ward, D-Wichita.
"The Legislature — in my 20 years there — tends to defer to the NCAA, for better or for worse," he said.
On Friday, California's Democratic Governor Gavin Newsom signed a bill into law allowing college athletes to make money off their images, names or likenesses, through endorsement deals with companies, such as Adidas and Nike. The law directly contradicts the NCAA's rules, which generally bars college athletes from accepting compensation outside of the scholarship they receive to attend college.
Ward, who supports California's law, said the NCAA's policies prohibit athletes from earning a wage that is fair compared to the amount of profit universities make off of their labor. He said the policies also have an equity issue because coaches can have endorsement contracts with companies while athletes cannot.
"There is a serious problem here," Ward said. "I think the NCAA is 10 years behind the curve and they are harming these student athletes."
California's new law, which goes into effect in 2023, is the first of its kind in the country. But Newsom said he expects other states to follow. Two lawmakers in South Carolina already announced their intention to do so.
Ward said a bill could be filed in Kansas and it may receive a hearing, but he said it's doubtful it would get any further than that.
"I need 62 more votes in the House and 21 in the Senate and a governor to sign a bill like that," he said, referring to the majority needed in each chamber to pass a bill.
With California's action, Ward said he hopes it leads to the NCAA reconsidering its views on amateurism in college athletics and trigger a change.
In the meantime, the NCAA said the bill is creating confusion for college athletes. The organization said other states passing similar laws will lead to an unfair playing field for the NCAA's institutions.
"As a membership organization, the NCAA agrees changes are needed to continue to support student-athletes, but improvement needs to happen on a national level through the NCAA's rules-making process," the NCAA said in a statement. "Unfortunately, this new law already is creating confusion for current and future student-athletes, coaches, administrators and campuses, and not just in California.
"We will consider next steps in California while our members move forward with ongoing efforts to make adjustments to NCAA name, image and likeness rules that are both realistic in modern society and tied to higher education," the organization added.
Bob Bowlsby, commissioner of the Big 12 Conference, said in a statement emailed to the Journal-World that California's law creates instability in college athletics.
"The schools in our conference and those throughout the United States seek national recruiting and national competitive environment that can only be accomplished with fair and uniform rules and policies," he said. "The passage of (the law) will negatively impact the universities in California and will undermine the unique American collegiate model that has been an enormous source of opportunity for millions of young student-athletes and many millions of fans."
University of Kansas officials did not respond to the Journal-World's request for comment. The only person affiliated with the university to discuss the issue so far was KU football coach Les Miles.
Miles said during his weekly news conference on Monday that California's law could provide a recruiting advantage over schools in states where endorsement money is not allowed, such as Kansas.
"It certainly will change the landscape of college football," Miles said of the law. "Those places that have ... Southern California as a marketplace will certainly have great advantages (with) opportunities for their players."
But Miles said the KU program would still be able to compete in recruiting of athletes because of its quality of education and its campus.
"I think we'll compete very well. It'll be interesting to see," he said.
— Journal-World sports editor Matt Tait contributed to this report.