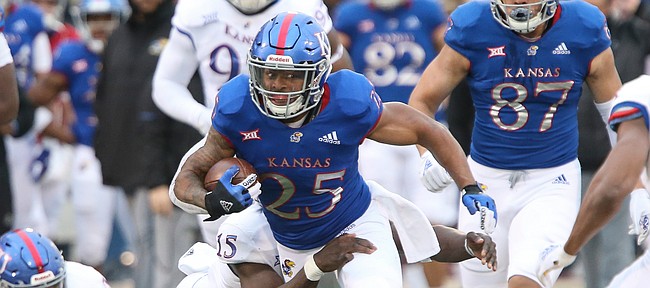 As the Kansas football team appears prepared to play the remainder of the season without veteran running back Khalil Herbert, head coach Les Miles chose not to address whether another rusher on the roster has any intention of redshirting this year.
Junior Dom Williams, who entered the season listed on KU's depth chart as one potential starter, didn't play at all in the Jayhawks' lopsided loss at TCU — the first game Herbert missed.
Williams played in each of KU's three nonconference games but hasn't appeared in either of the previous two games, even though the 5-foot-10, 200-pound running back from Texas was in uniform for both.
Asked Monday for an update on Williams' status and whether Williams might be in a similar situation to Herbert and looking to redshirt, Miles said he couldn't say.
"Again, it's Dom's information, not mine," Miles said. "He'll be at practice today, and we're going to go on from there."
Dom Williams rushed nine times for 34 yards against Indiana State, as No. 1 running back Pooka Williams Jr. served a one-game suspension. Once Pooka returned in Week 2, Dom had two carries for 4 yards against Coastal Carolina and then ran six times at Boston College, netting minus-3 yards.
However, Dom Williams didn't play at all in either of KU's first two Big 12 games. What's more, the coaches turned to freshman Velton Gardner as the No. 2 rusher at TCU after Herbert was unavailable for what KU called personal reasons.
The newest published KU depth chart, released on Monday, lists Pooka Williams Jr. as the starter and either Gardner or Dom Williams as the backup.
Having only played in three games — FBS players can appear in as many as four and still redshirt — Dom Williams remains a redshirt candidate with seven games to go in the season.
Hypothetically, Williams could redshirt in 2019 and have two more years of eligibility remaining with the Jayhawks.
Outside of the four running backs who have played this season, KU's roster also lists Donovan Franklin, Rob Fiorentino and Pelumi Okeowo at the position.
Mike Lee's status
Though he contributed six total tackles for the Kansas defense on Saturday at TCU, KU senior safety Mike Lee left the field in the second half, appearing to have suffered an injury.
Miles declined Monday to say whether Lee will be able to play this week against Oklahoma.
"I don't know exactly where he's at in terms of his health, but he did take significant contact," Miles said. "He's a tough young man. I'd expect him to return as soon as he can."
No word on Prox
KU's head coach also remained vague on the standing of the team's leading tackler Dru Prox, who missed the Jayhawks' loss at TCU due to an injury.
"I don't know when we expect Dru Prox to be back," Miles said Monday afternoon. "I think we'll know more as we get through the next couple of weeks."