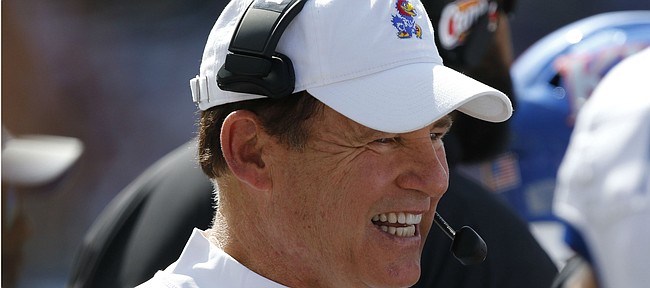 Fort Worth, Texas — The Kansas football team had to play its Big 12 road opener at TCU Saturday without its leading rusher, senior running back Khalil Herbert.
A 5-foot-9 senior from Coral Springs, Fla., Herbert missed what ended up being a 51-14 loss for the Jayhawks at Amon G. Carter Stadium for what a team spokesperson described as "personal reasons."
Head coach Les Miles didn't provide many further details regarding Herbert's absence after the game.
"I don't know exactly what caused his issues," Miles said. "He was not with us. I really just want to speak and talk about the guys that are here that played in the game."
In KU's first four games, Herbert (384 rushing yards) provided 8.9 yards per carry, 96 yards per game and two rushing touchdowns.
Theoretically, having played in only four games this season, the senior could sit out the remainder of the year if he so desired and then transfer to play elsewhere in the 2020 season.
Miles was asked about that exact possibility, given the timing of Herbert not being with the Jayhawks (2-3 overall, 0-2 Big 12). The coach didn't rule out such a scenario.
"What I'm saying is I don't want to spend the time here on anybody other than people who played in the game," Miles said. "I will say this: I'm sure that this is the fourth game that someone would be allowed to play in or not play in and still redshirt, though. It makes sense to me."
NCAA football players can play a maximum of four games in a season and still take a redshirt, by rule.
Starting KU quarterback Carter Stanley paused upon being asked when he learned Herbert wouldn't be with the team.
"Today," was Stanley's one-word response.
"Khalil's a really good friend of mine. Great football player," Stanley continued. "I don't know too much about it. It just kind of seems like a personal deal. For us it's all about next man up. We've got to be able to move on from that."
In Herbert's absence, true freshman running back and Dallas metroplex native Velton Gardner served as KU's No. 2 running back.
The 5-foot-9 back from Dallas Skyline High was the only Jayhawk in the first half to pick up more than 10 yards on one play, doing so with both a run and a catch.
Long after the game was all but over, Gardner also provided KU with it only scoring play of the lopsided road loss, rushing for a 45-yard touchdown with 12:10 left in the fourth quarter. Gardner finished with 72 total yards.
Missing Prox
KU's defense had to do its best to get by at TCU without starting inside linebacker and leading tackler Dru Prox.
Prox, who accounted for 39 total tackles in the first four weeks, was unable to play after suffering an injury late in KU's Sept. 21 home loss to West Virginia.
Without junior Prox, KU started true freshman Gavin Potter in his place. The 6-foot-2, 215-pound Potter completed a long afternoon for the Jayhawks' defense with 11 total tackles (nine solo). Those numbers surpassed his combined production from the first four games, when he had seven total stops while seeing his role and playing time expand as a reserve the previous two weeks.
Sosinski returns
Injured and unavailable to play each of KU's past two games, senior tight end James Sosinski returned to the lineup at TCU.
Sosinski didn't play much, as Jack Luavasa started at tight end and freshman Mason Fairchild appeared at the position, too.
A 6-7 senior, Sosinski didn't record a catch in the loss. Luavasa caught one for 8 yards and Fairchild had one for 23.
Mane starts
The Kansas offense started Api Mane at center for the first time this season. Though Mane played each of the previous four weeks, it was as a backup to Andru Tovi, who started.
KU still used both centers, with Tovi entering for the first time on KU's third series.
Wise in the house
Former KU defensive standout Daniel Wise attended Saturday's game, watching the second half from KU's sideline.
Wise, who went undrafted this past spring, is on the Dallas Cowboys' practice squad.
1 more Big 12 road loss
Although the Jayhawks won a nonconference road game this season and last, the program's longstanding Big 12 road losing streak remains alive.
The next time KU football wins a conference game on the road, it will be the first time the program has done so since a victorious trip to Iowa State, on Oct. 4, 2008.
The drought didn't end Saturday at TCU, where the Jayhawks dropped their 46th true conference road game in a row.
Adeniji, Torneden Senior CLASS nominees
Two of the Jayhawks' most prominent veterans this week were named among the 30 FBS candidates nationwide who are up for the 2019 Senior CLASS Award.
Both starters, left tackle Hakeem Adeniji and safety Bryce Torneden were considered worthy due to their involvement in the community, their work in the classroom, their character and their play on the field.
Both are team captains for Kansas.
Torneden also was named to the AFCA Good Works Team earlier this month and is KU's nominee for the Wuerffel Trophy, for community service.
In-state RB plans to walk on
The KU football team's 2020 recruiting class is a crowded one, with 26 high school prospects committed to Miles' program at the moment as possible signees.
It appears KU also will add in-state walk-on Caden Cox in 2020. A 5-foot-9 running back from Maize, Cox announced this week his plans to walk on at Kansas.
While thanking several people in a note he posted to Twitter, Cox noted former KU running back Jake Sharp and his training staff at Sharp Performance have helped him with his strength and conditioning.