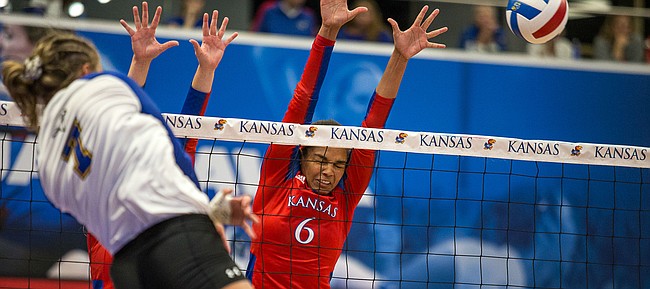 Playing the No. 2 team in the nation is rarely a simple task, but pairing that with a four-match losing streak meant Kansas volleyball had its hands full Saturday in the team's Big 12 opener.
"You should play with a free mind," KU coach Ray Bechard said. "You should play with a challenge and opportunity mindset in that, what do you have to lose?
"You've got to put them in a competitive situation where they feel pressure."
And while the Jayhawks had their shining moments of applying that pressure, particularly in a tightly contested third set, No. 2 Baylor controlled the match from the start en route to a 3-0 (25-15, 25-13, 25-22) win over KU.
"This is one of the best offensive teams in the country, and we did little to slow that down," Bechard said. "The first two sets you're digging yourself out of a hole, and the third set we respond better.
"So we need to make a bit more consistent effort defensively and create opportunities where they don't get on those 3-, 4-, 5-, 6-point runs."
The Bears wasted no time getting settled into Horejsi Family Volleyball Arena as Baylor jumped out to a quick 10-3 lead in the first set. KU made a bit of a comeback late cutting the lead to 21-14, but Baylor held on to take the first frame.
The Jayhawks hit for just a .062 clip in the first set while the Bears hit for an impressive .458 clip, illustrating the mostly one-sided display.
And the second set played out nearly identical to the first, with Baylor this time jumping out to a 9-1 lead and feeling very much in control.
Once again, though, timeouts helped KU to at least slow down the momentum and keep Baylor within striking distance at a 20-12 margin.
But Baylor once again showed why it's the No. 2 team in the nation by staying in the moment and clinching the second set to take a commanding 2-0 match lead.
KU slightly improved to a .103 hitting percentage while Baylor maintained pace at a .484 clip in the second set.
The third set signified a shift in the match, though, with KU this time jumping out to a 4-2 lead, including a service ace by sophomore middle blocker Rachel Langs.
"We just felt like we needed to get off to a better start," Bechard said of the shift in momentum. "With a group like (Baylor) that can get into an offensive rhythm and momentum can snowball a little bit, you've got to get off to a good start."
KU also stuck around longer than the previous two sets, with the third frame being the most tightly contested set of the match. After that initial surge by the Jayhawks, KU matched Baylor's aggression, trailing 19-16 deep in the third set.
And the Jayhawks managed to win back the serve trailing 22-18, and kills by Langs and junior setter Sara Nielsen cut the margin to 22-20.
Langs finished with a team-high seven kills on a .238 hitting percentage.
"I thought she was as locked in as anybody," Bechard said.
But Baylor junior outside hitter Yossiana Pressley wouldn't allow the third set to slip away, securing two kills down the stretch to grab the set and match win.
Bechard looks at teams like Baylor and Texas as the "benchmark of where the league is at" right now and can provide quality learning opportunities for this Jayhawk team.
"Obviously we just saw an elite team — one of the best teams in the country," Bechard said. "We've got to create behaviors, create opportunities, positive touches that will allow us to compete day in and day out with teams at that level."
Kansas will travel to Iowa State at 7 p.m. Wednesday.