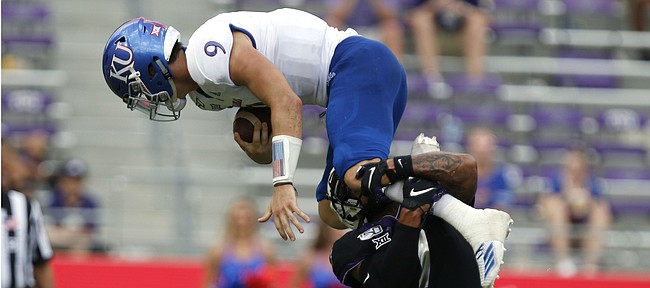 Fort Worth, Texas — Drenched in sweat as he left the steamy field at Amon G. Carter Stadium on Saturday afternoon, Hakeem Adeniji slowly walked toward the tunnel that led to the visitors locker room.
A handful of Kansas football fans dotted the bleachers around the exit, waiting for the Jayhawks and wishing them well. A fourth-year starter on the offensive line, Adeniji, too lost in the moment to notice, removed his helmet, revealing his consternation.
Soon after, KU senior quarterback Carter Stanley took the same path, biting the towel in his mouth and staring blankly ahead after the worst defeat of Les Miles' first season as head coach — a 51-14 thumping at the hands of TCU.
Even before the temperature climbed into the 90s in the second half, the Jayhawks sweated and staggered through a hellish afternoon in front of an announced crowd of 41,960.
"It was a man's chore," Miles said in his postgame press conference, "to get that team stopped."
The Jayhawks had trailed on the scoreboard during the early stages of the Miles era. But not like this.
It was the second half before a TCU series ended without a score. Once the drubbing was complete, the KU offense was outgained 625-159, with Kyle Thompson punting on nine of the visitors' 13 possessions.
The Horned Frogs (3-1 overall, 1-0 Big 12) felt so comfortable by the second quarter that they went to their backup quarterback, Alex Delton, on their fifth offensive series after scoring a touchdown on each of their first three possessions — Jalen Reagor's 73-yard punt return touchdown to end the first quarter accounted for the other 6 points of TCU's 28-0 lead less than five minutes into the second quarter.
With the starting QB, Max Duggan, who had gone 5-for-6 through the air for 88 yards and two touchdowns, watching from the sideline, Delton promptly led a five-play, 69-yard scoring drive. The former Kansas State QB completed throws of 15 and 49 yards on his first series, and running back Sewo Olonilua's 6-yard run to the end zone that completed the drive put KU in a 35-0 abyss with more than four minutes left until halftime.
By the time the Jayhawks went three-and-out on offense for the fourth occasion through six possessions, the Horned Frogs had put five touchdowns on the scoreboard and Kansas had managed a mere three first downs, averaging 1.8 yards per play.
"They had a great game plan," said Stanley (12-for-29 passing, 84 yards, one touchdown) when asked of KU's offensive issues. "They've obviously got some great athletes on that side of the ball."
Stanley, after seeing the offense average 3.4 yards per play, mentioned TCU head coach Gary Patterson's defensive reputation and said the Jayhawks didn't execute against his scheme or adjust properly.
"It was a tough one," said the QB, who played every snap.
Incredibly, as TCU kicker Jonathan Song's 25-yard field goal sent the Frogs to intermission with a 38-0 lead, Kansas retreated to the locker room having gone 0-for-6 on third downs while TCU enjoyed a perfect 10-for-10 showing on third downs against a KU defense playing without leading tackler and starting linebacker Dru Prox, who was out due to injury.
Senior safety Bryce Torneden wasn't certain any one recurring issue was to blame for the defense's third-down shortcomings.
"Obviously on third down in the Big 12, any conference, you've got to do well on third down," Torneden said after a nine-tackle day. "So that's kind of tough to hear. Obviously tough seeing it on the field. We've got to improve and be better on third down ultimately."
Kansas mustered 49 yards of offense on 24 plays in the first half, as TCU dominated, racking up 351 yards on 45 snaps.
A 40-yard kickoff return by redshirt freshman Jamahl Horne qualified as the lone highlight of the first half for Kansas (2-3 overall, 0-2 Big 12). Even starting a series near midfield didn't lead to points. Freshman running back Velton Gardner ran for one first down and caught a pass from Stanley for another. However, a typically unsuccessful third down for KU at the 30-yard line meant the Jayhawks went for a field goal, and Liam Jones' 49-yard attempt missed wide left.
The KU offense finished 1-for-11 on third downs, while the Frogs were 14-for-19. Stanley, repeating a sentiment that emerged from players and coaches alike the previous week, said the offense didn't set itself up for success.
"Third downs usually come down to what you do on first and second down," Stanley said. "Today we didn't do a good job of putting ourself in third and manageable."
KU started the game in an immediate hole as both the offense and defense looked outmatched from the first time each took the field.
The Jayhawks' offense, similar to their first series a week earlier against West Virginia, opened with a short rushing gain for Pooka Williams Jr. (eight carries, 12 yards), ran the ball again to no avail and passed on third down without extending the drive.
Uncharacteristic for the KU defense, which mostly looked sound through the first four weeks of the season, it floundered from the opening minutes as well. It took TCU's offense just 1:53 of game clock and five plays to strike first and set the tone for a long afternoon for the Jayhawks.
The Frogs' cushion only grew on their second offensive drive, as they continued to cash in on third downs and keep a quickly tiring KU defense not only on its heels but with its hands on its hips.
TCU went 5-for-5 on third downs, methodically beating the Jayhawks for a 17-yard scoring drive capped by, of course, Duggan's second third-down TD throw of the young game.
So why did the Jayhawks look so outmatched in their fifth game of the season?
Said Miles: "I think Patterson has a veteran club — he said some days they're veterans some days they aren't. Today they were veterans."
TCU didn't have a series end without a score until the third quarter, when the Frogs needed punter Jordy Sandy for the first time, after a Hasan Defense pass breakup gave KU its first third-down stop in 11 tries.
Not that a touchdown drive in response from Kansas would have swung the game back toward something in the realm of competitive, but the KU offense essentially assured the team of an embarrassing defeat by opening the third quarter with yet another three-and-out, its fifth of seven such non-drives in the game.
A false start flag on right tackle Clyde McCauley III on first down sent the series backward out of the gate before Stanley rushed for 5 yards, threw an incompletion on second down and was sacked on third down.
KU managed one first down on three possessions in the third quarter, picking it up on a defensive holding call on third and 8. Later that same series, in the opening minute of the fourth quarter, KU's fifth first down of eight on the day came on a pass interference call as Stanley looked to hit Williams deep down the middle of the field.
The Jayhawks avoided being shut out for the first time since their 2017 debacle at TCU when Gardner put a move on a defender and raced 45 yards for a touchdown, KU's first score of the game, with 12:10 left in the beat down. A 25-yard TD reception for Williams with 3:50 to go provided a second score.
"We've got to be better," Stanley said, "as a whole team."
KU hosts No. 6 Oklahoma in Week 6.