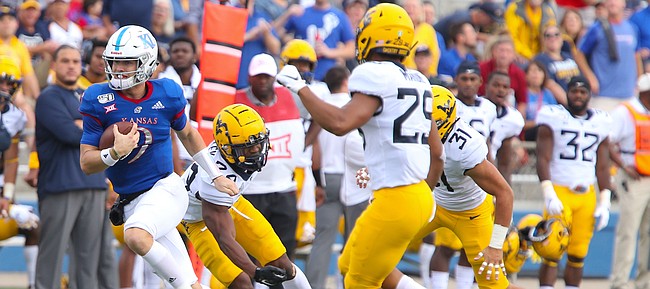 — Kansas (2-2 overall, 0-1 Big 12) at TCU (2-1) • 11 a.m. kickoff, Amon G. Carter Stadium • Game-time forecast: 83 degrees, partly sunny, 3% chance of rain • TV: FOX Sports 1 • Radio: KLWN, FM 101.7 / AM 1320
— Log on to KUsports.com for our live coverage and follow our team on Twitter: @KUSports, @BentonASmith, @mctait and @SJacksonLJW
Keys for Kansas
1. Consistently longer drives
The Kansas offense stalled much of the first half in what proved to be a narrow home loss to West Virginia. The Jayhawks punted five times before halftime and lost possession on a fumble by quarterback Carter Stanley on another.
As costly as a turnover can be, KU's inability to stay on the field proved just as damaging. Six of the Jayhawks' seven possessions in the first half lasted four plays or fewer — they went three-and-out on four of those.
Incredibly, KU rushed on first down and picked up no more than 2 yards six times in the first half.
"We probably pushed the ball interiorly one too many times," KU head coach Les Miles said earlier this week of the first half struggles, "and we should have been using the opportunity to get on the perimeter against (WVU)."
Sophomore running back Pooka Williams Jr. said KU's offensive linemen created holes on those unsuccessful first-down rushes, but linebackers shot through the gaps.
"The linemen can't block everybody that's in the box," Williams said. "So once we started spreading it out, the lanes were open more clear."
Through four games, KU has only led an opponent in time of possession once, in its impressive road win at Boston College two weeks ago. The Jayhawks are averaging 27:05 in time of possession per game, and they head into their first Big 12 road game of the season ranked 111th among all FBS teams in that category. They're also 89th in first downs per game (20).
Strings of three-and-outs won't get the job done at TCU. Head coach Gary Patterson's teams over the past five seasons are 25-2 when the Horned Frogs lead in time of possession.
2. Be ready for more than 1 QB
Not much game footage exists of TCU starting quarterback Max Duggan. In the first start of his college career this past week against SMU, the true freshman took a while to get going, completing only one of 10 pass attempts in the first half.
Patterson said earlier this week, though, he liked the way Duggan played late in that game. The 6-foot-2, 190-pound QB went 15-of-26, for 166 yards and three touchdowns in the second half.
However, as reported by the Fort Worth Star-Telegram, Patterson might not stick with Duggan if he struggles against Kansas.
The Horned Frogs now have junior QB Mike Collins available again after he suffered a foot injury during preseason camp. Collins, who started four games late in the 2018 season, including the Frogs' loss to KU in Lawrence, could make his 2019 debut against the Jayhawks.
Collins accounted for three total touchdowns, passed for 351 yards and rushed for 33 against KU last year.
3. Beware of Reagor
The Horned Frogs' offense, averaging just 5.5 yards per play (90th in FBS), hasn't exactly taken off yet. That's likely because one of TCU's most versatile skill players, junior receiver Jalen Reagor, hasn't either.
A 5-11 wideout who possesses devastating open-field speed, Reagor has 1,739 career receiving yards and 275 career rushing yards. But he has caught only 10 passes and rushed just four times entering his team's Big 12 opener against KU.
Asked this week if there were plans to move Reagor around more and get him more involved, Patterson scoffed.
"You're asking me a question I can't answer. And why would I tell KU that? Hey, KU. We're going to put him at X," a laughing Patterson replied.
Two seasons and three games into his TCU career, Reagor's 18 career TD catches rank third all-time in the Horned Frogs' record books. Regardless of his slow start, KU's cornerbacks and safeties have to consider him a big-play threat at all times, because if Reagor gets going, TCU's offense will be at its best.
Mega Matchup
KU run defense vs. Darius Anderson and Sewo Olonilua
As sound as the Kansas defense has shown it can be a third of the way through the season, the Jayhawks haven't exactly stymied their opponent's running backs.
In Week 1, Indiana State's Titus McCoy (88 rushing yards) averaged 6.8 yards per carry before leaving the game in the third quarter with an injury.
Next came Coastal Carolina's CJ Marable (148 yards), who averaged 6.2 yards per rush and scored one TD.
Boston College's AJ Dillon (151 yards) gashed KU for 5.6 yards per carry and a TD even though the Eagles rarely gave him the ball in the second half.
Three WVU running backs — Kennedy McKoy, Leddie Brown and Martell Pettaway (183 yards) — combined to average 4.8 yards per carry and score three touchdowns.
Now the Kansas defense will have to deal with not one but two TCU senior running backs.
At 5-11 and 212 pounds, Darius Anderson is averaging an eye-popping 9 yards per carry on 41 rushes. When it isn't Anderson's turn, TCU has the larger Sewo Olonilua (6-3, 240), who averages 5.4 yards a rush attempt on 30 touches to date.
The past two weeks, Anderson's 179 yards at Purdue and 161 against SMU represent the top two efforts of his career. He ran for two touchdowns in each game.
The Horned Frogs have run the ball on more than 55% of their offensive plays so far, so KU's defense can count on seeing plenty of Anderson and Olonilua, regardless of which QB is handing the particular back the ball.
TCU's coaches figure to challenge a KU run defense that has given up 4.08 yards per carry overall (74th in the nation). The Jayhawks will need their best showing of the season against the run to pull off an upset at TCU. And that could prove extremely difficult if leading tackler and inside linebacker Dru Prox (hurt late in KU's loss to West Virginia) isn't cleared to play.
Jayhawk Pulse
The highs and lows of the season's first four weeks, according to both the players and Miles, have not been enough to derail the Jayhawks' confidence.
"I think this football team and what we are experiencing here is something that we would anticipate," Miles said. "And that is that we're getting better and that we're going to win games. That's going to happen, OK."
All involved were disappointed KU couldn't complete a comeback victory against WVU in the team's Big 12 opener. But the result also seemed to remind the Jayhawks they are competitive and capable of more.
"I like what's going on here and how it's developing," Miles said, "and that at some point in time this will be a winning ball club."
Tale of the Tape
KU ….. TCU
KU run D vs. TCU run game √
√ KU pass D vs. TCU pass game
KU run game vs. TCU run D √
KU pass game vs. TCU pass D √
√ Special teams
Prediction
TCU 33, KU 20