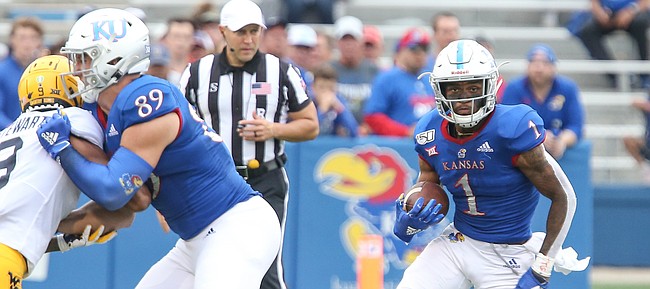 When Les Miles lamented his Kansas football team's inability to keep up with West Virginia in time of possession following a narrow home loss, there was a specific sub-gripe at the crux of his concern.
The Jayhawks spent such comparatively little time on offense (22:19 compared to WVU's 37:41) that star running back Pooka Williams didn't get to touch the ball enough.
With 15 carries for 76 yards and two receptions for minus-two yards, Williams finished a game with fewer than 100 yards of total offense for the first time in five games, his last such outing coming in KU's loss at Kansas State (59 yards) in November of 2018.
"It would be very difficult for me to tell you that there's somebody at fault when we just didn't have the ball in the length of time at all," Miles said during his postgame press conference, after declaring Williams didn't get enough touches.
In the days since KU dropped its Big 12 opener, 29-24, Miles' words got back to Williams. The sophomore from Louisiana said he appreciated Miles saying that and found it encouraging.
The running back also went out of his way to make it clear that Miles' proclamation wasn't going to his head.
"I'm not going to say I just need the ball, because I'm a team player," Williams said Monday. "If everything was going well I'm not going to just cry and beg for the ball. I'm a team player. Whatever the team needs, that will happen."
Any player on KU's offense will tell you the Jayhawks (2-2 overall, 0-1 Big 12) need and want to get the ball to Williams.
The 5-foot-10, 170-pound preseason All-Big 12 rusher touched the ball on 30.4% of KU's offensive plays against West Virginia. Even though he had more touches (24) at Boston College, Williams' rushes and receptions came on 27.2% of the 88 plays KU ran in a victory. In his sophomore debut, a home loss to Coastal Carolina, Williams had 24 touches on 56 plays (42.9%).
The Jayhawks don't mind force-feeding Williams if they have to, because he proved as a freshman he can sometimes create massive gains out of nothing. Over the course of 11 games in 2018, Williams had 194 combined touches on offense and produced 10 or more yards 45 times. What's more, 20 of those went for 20-plus yards. He had a 72-yard rush at Baylor and his longest catch as a freshman went for 28 yards.
His instincts, speed and ability to stop and change directions instantly made Williams productive as a freshman. Even though through three games as a sophomore his longest gain is a 17-yard rush against WVU, the running back senses longer chunk plays are in his future.
"I'm coming close," Williams replied, when asked if he almost broke what Miles has called a "Pooka play" against WVU.
Williams credited KU's offensive linemen for getting him started down that road and he feels like he wants to pay them back for their efforts by delivering more highlight runs.
Week 4 marked his least productive offensive outing of the season so far, but Williams said he felt better in that performance than he had in either of his previous two.
"Like reversing field, that was the best I ever reversed field," Williams said of his first three games as a sophomore. "It was just rust. Now I feel like I'm back in the groove again."
Williams said he expected to experience some rust after missing out on all of KU's spring practices and some summer player workouts due to his lengthy offseason suspension — the result of his arrest and domestic battery charge this past December. Williams was reinstated in July and served a one-game suspension in the team's opener.
As KU heads to TCU (2-1) on Saturday for its first Big 12 road game of the season, Miles said the coaches have to get Williams and the offense going.
"Pooka is the offensive piece that we have to get involved, and we have to count on him getting ten touches or more every game," Miles said. "Tell you one thing, everything that he's done for us has been spectacular. How he gets the last three yards of his carry is — he'll have a long stay in a league right above this one."
Williams said Miles hadn't told him specifically that he expects KU's primary back to play in the NFL when his time with the Jayhawks is over. Still, the sophomore said upon learning that sentiment that it meant a lot to him.
"But at the same time that makes me more humble," Williams added, "makes me want to work harder for the team and do everything in my power."
Pooka Williams' touches through 3 games
• Sept. 7 vs. Coastal Carolina: 22 rushes, 99 yards, 0 TDs; 2 catches, 10 yards, 0 TDs
• Sept. 13 at Boston College: 22 rushes, 121 yards, 1 TD; 2 catches, 2 yards, 0 TDs
• Sept. 21 vs. West Virginia: 15 rushes, 76 yards, 0 TDs; 2 catches, -2 yards, 0 TDs
• 10 plays from scrimmage for at least 10 yards (0 for 20-plus yards)
Pooka Williams' 2018 numbers (11 games)
• 14.6 rushes per game, 102.3 yards per game, 7 total TDs; 3.0 catches per game, 26.3 yards per game, 2 total TDs
• 45 plays from scrimmage for at least 10 yards (20 for 20-plus yards)