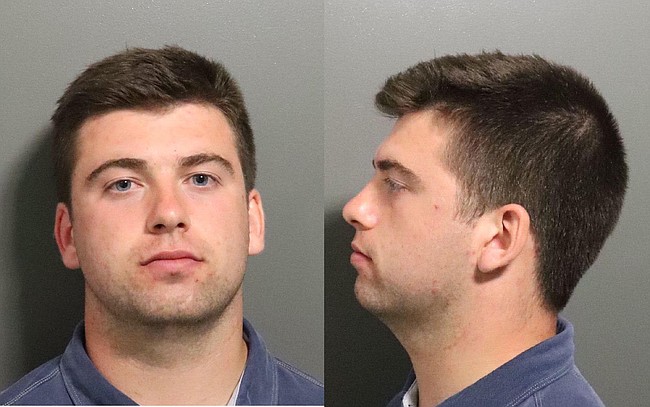 A University of Kansas football player was charged Tuesday following an incident at a popular student bar in Lawrence.
Thomas Patrick Barrett, now 21, was arrested around 11:30 p.m. Saturday, Aug. 31, at the Jayhawk Cafe, commonly known as the Hawk. Two 17-year-old girls were also inside the business and "in possession of what is believed to be alcohol," Sgt. Amy Rhoads of the Lawrence Police Department said via email.
Barrett has been charged with two misdemeanor counts of contributing to a child's misconduct. According to online court records, a lawyer entered a plea of not guilty on his behalf on Tuesday.
The girls were released to their guardians, Rhoads said.
Barrett's arrest was also on suspicion of using or possessing false identification. His 21st birthday was the same week, according to Douglas County Jail records. That charge was not filed.
Barrett's next court appearance is scheduled for Oct. 2.
KU athletic department spokeswoman Katy Lonergan said, "This situation is being addressed through the legal process and we will continue to monitor it closely."