While Kansas linebacker Dru Prox is in the process of racking up tackles on game days, he isn't exactly keeping track.
But by the time a stat sheet reaches his hands afterward, Prox is likely to already know the exact numbers attached to his production.
"Usually my mom will send that stuff to me to be honest," said a smiling Prox, who heads into Big 12 play as the conference's fifth-leading tackler, averaging 10 stops an outing.
When Prox picks up his phone after a game, inevitably texts from his mother, Aime Hadnot, his "number one updater," are waiting for him.
"As soon as they come out, she's on it," Prox said. "It's gonna hit my phone. I promise."
Prox heard from his mother in person following KU's victory at Boston College last Friday. She surprised the junior linebacker when she showed up at Alumni Stadium, in Chestnut Hill, Mass., far from her home base in Texas. Prox said she got an assist on the plan from his roommate, senior linebacker Najee Stevens-McKenzie, who put Hadnot on his ticket list.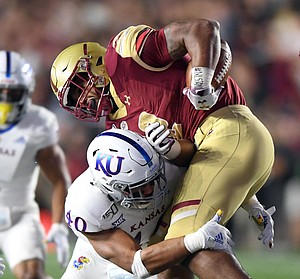 KU linebackers, including Prox, were busy doing individual drills before the game when he heard his mother and her group of fans yelling his name from the stands.
"That really got me excited, too, made me want to play harder," Prox said. "Well, they made the trip all the way out here, I've got to put on a show for them."
The 6-foot-1, 215-pound junior linebacker from Kaufman, Texas, hit his season average at BC, delivering 10 total tackles — all in the first half.
And what did his mom have to say about that?
"I played a great game — basically what every mom's going to tell you," a laughing Prox related. "Gave me a hug. I told her I was excited to see her."
First-year KU coach Les Miles is grateful to have Prox starting at inside linebacker. Miles said Prox was one of a number of players who proved at BC he wanted to have an impact on the win.
"He's having a great year," Miles said last week, ahead of KU's convincing victory at BC. "He's very talented, mobile, athletic, understands football, is a bright football man."
Before Miles and his staff arrived at KU, Prox spent most of his sophomore season contributing on special teams. Forced to guess how many snaps he played at linebacker, Prox put the number somewhere around 20 to 25 — "It could be less."
At the time, Joe Dineen and Keith Loneker Jr. played linebacker nearly exclusively, and Prox was a reserve.
It took some patience for him to become a more prominent player in 2019, but Prox certainly wasn't complaining about that.
"Nobody comes to college to sit on the sideline and not get to play," Prox said, when asked this week to reflect upon waiting for his opportunity. "I'm not going to be one of those guys who gets to badmouthing the coaches and other players. Like, 'Why can't I go in? I'm better than this dude or better than this dude.' That's just life. That's how it happens. You've got to play your role and keep going."
Now that he's a relied upon defender for KU (2-1), there is a sense of gratification for Prox. However, he said he doesn't want to allow himself to become complacent.
"Me personally I still feel like I've got a long way to go," Prox said. "I'm taking steps in the right direction, but I'm still not where I want to be at. So I'm really just trying to understand why I'm not where I want to be at right now and kind of push through that barrier so I can go a little farther."
In what may be a breakthrough year for the inside linebacker, Prox leads KU in solo tackles (24) and total tackles (30) through three games and has been credited with one sack and one pass breakup.
He'll let his mother continue to be the one keeping tabs on the stats, though.
"When I'm out there, I'm just playing," Prox said. "I just make the tackle, look to the sideline, get the call, next play."