Sunday, September 15, 2019
With the Kansas football team's offense playing so relatively out of character in a 48-24 victory at Boston College on Friday night, the performance of the Jayhawks' defense may have gone overlooked by some.
It wasn't by KU quarterback Carter Stanley, who referenced multiple times during his postgame interview the job well done by his teammates on that side of the ball.
Nor, of course, was the importance of the group disregarded by head coach Les Miles.
"D.J. Eliot did a great job with the defense," Miles said of his coordinator and outside linebackers coach. "Absolutely great."
Though the Jayhawks didn't create any takeaways or sack Eagles QB Anthony Brown more than once — Azur Kamara and Malcolm Lee shared credit for that one — their most impressive feat might have been their collective resiliency.
Photo Gallery
Jayhawks earn road victory over Eagles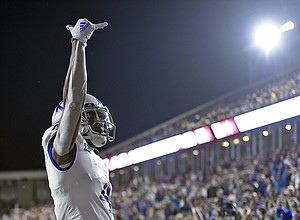 Photo gallery: Jayhawks earn road victory over Eagles (Photos by Chris Evans)
Boston College (2-1) scored three times on its first four drives to take a 17-7 lead late in the first quarter. Jumbo junior running back A.J. Dillon eclipsed 100 rushing yards two minutes into the second quarter.
But by the second half it was KU's defense that was on a roll. The Eagles failed to score on each of their seven possessions after halftime, a string that included three separate three-and-outs.
"We kept our composure," said KU junior linebacker Dru Prox, who led the defense with 10 total tackles. "When they got that lead a lot of guys on their side were talking mess — that comes with football — but I think they already had it in their head that they were going to win, that they were just going to run over us. I think that's where they messed up. Just thinking that we were going to lay down and die."
The KU defense had the bodies to make sure that didn't happen. By the end of the nonconference victory that washed away the stink of a Coastal Carolina home loss six days earlier, 11 different Jayhawks had four or more tackles.
The defense also involved more linebackers than usual as a way to handle Dillon, David Bailey and the BC rushing attack. Instead of Prox and Kyron Johnson playing exclusively inside, Eliot subbed in Jay Dineen and Gavin Potter at times, keeping the inside linebackers fresh.
"Yeah, they had two backs — 240 or 250 or something — big old guys," sophomore linebacker Dineen said. "So we knew if we could stop the run, stop A.J. Dillon and the other guy (Bailey), we had a really good chance. And that's what we did."
Though Dillon finished with 151 yards on 27 rushes, he only carried the ball 12 times for 43 yards after surpassing the 100-yard barrier early in the second quarter. BC's drives were too brief throughout the second half to really get the star rusher involved.
"We knew coming into the game that they were going to try and be a more physical team than us," said Dineen, who had four tackles and one tackle for loss, plus a forced fumble that BC recovered. "That was our big thing during practice all week. We've got to come out and be the physical team."
Whether it was Prox, Dineen, safeties Bryce Torneden (nine tackles) and Mike Lee (seven), linebackers Johnson (seven), Najee Stevens-McKenzie (five), Potter (five) and Kamara (four), cornerback Kyle Mayberry (four), safety Jeremiah McCullough (four), nose tackle Jelani Brown (four) or someone else making the stops, the KU defense often had a solution for the Eagles' offense.
"Our D-line played really well, kept those big guys off of us," Dineen said, "and with that, having us roam freely and being able to see the holes and being able to hit it helped a lot."
Hardly anyone expected KU (2-1) to win at Boston College, let alone do so convincingly.
But less than a week removed from KU's home loss to Coastal Carolina, Prox was able to laugh while describing the polar opposite performance.
"We were really low," he said of the Week 2 result, "but we emphasized on the things that set us back last week and that gave us the confidence boost we needed. We all knew how good a team we are and how good a team we can be. It really just comes down to communication and being where we are supposed to be and we did a really good job with executing."
Miles thought the defense and offense and special teams all complemented each other for KU in one of the program's most potent victories in recent memory.
"I think it tells everybody that the Jayhawks are coming," KU's head coach said of what the win means. "And I think it's very realistic that we can be a great program and have real quality football teams year after year. Not today, not tomorrow, but really short in the future."