Chestnut Hill, Mass. — Les Miles, fresh off coaching his Kansas football team to a Friday night upset over Boston College at Alumni Stadium, had a confession to make.
"You know I definitely violated an NCAA rule," Miles began in jest, following the Jayhawks' 48-24 road victory. "I just want to come clean. I told the whole team that after we won we would park the plane someplace here in Boston and go out on the town. I might not be able to come through with that. So I don't know quite where that sits."
The playful reveal, though more of an FAA breach, wasn't a joke. Well, at least the part about him making that promise to the Jayhawks wasn't, as they somehow recovered from an unsettling home loss to Coastal Carolina.
"He's been talking about that all week," receiver Andrew Parchment said after his two-touchdown contribution to his coach's fictional plans. "I don't know what's in Boston for him, but I guess we'll have to go find out."
Photo Gallery
Jayhawks earn road victory over Eagles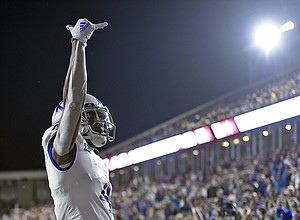 Photo gallery: Jayhawks earn road victory over Eagles (Photos by Chris Evans)
The Jayhawks (2-1) spent most of their nonconference finale flying high, thanks to senior quarterback Carter Stanley, who literally took off at one point and improbably bounced back from back-to-back weeks of multiple turnovers, compounded by an early interception at BC (2-1) that seemed to hint more of the same was on the way.
Only two snaps into his night, Stanley lost control of the ball as he spotted Parchment open and BC's Mehdi El Attrach picked it off.
As Stanley, who had just been credited with his fifth turnover of the young season, headed to the sideline, plenty of Jayhawks gave him a pat on the back. It was redshirt sophomore safety Davon Ferguson, though, that left an impression.
"We're riding with you," Ferguson told the QB who had struggled versus CCU six days earlier. "You're good. Trust me, we're with you."
Added Stanley: "That meant a lot to me."
The effect wasn't instantaneous — KU had to punt on its second possession, already trailing 10-0. But Stanley officially put the interception behind him when he concluded KU's third series by hitting tight end Jack Luavasa for a 19-yard TD that put the visitors, a three-TD underdog, right back in the game.
That's when Stanley took a deep breath and realized, "We can move the ball against these guys."
That the Jayhawks did. Once Stanley and the offense got rolling — Khalil Herbert rushed for 187 yards, Pooka Williams Jr. added 121 and Andrew Parchment hit triple digits with 100 receiving yards — there was no looking back as the group achieved a level of success that had eluded it the first two weeks of Miles' tenure.
The same offense that only scored three touchdowns combined against Indiana State and CCU dissected the Eagles to the tune of four TD drives in a row before halftime, with Stanley picking BC apart through the air and Herbert and Williams confounding the home team on the ground.
Stanley finished the victory 20-for-27 passing with 238 yards.
"I try to always hold that confidence. With just the combination of belief, confidence and results in that game, that was probably the best I've felt in a Kansas jersey," he said.
During one game-swinging drive late in the second quarter, Stanley soared over a defensive back on a run, lowered his shoulder into a much larger linebacker on another and capped the drive with a pinpoint TD pass to Parchment, with a flight path over two defenders and into his target's hands.
"I never knew Carter had those type of wheels," a smiling Parchment said after catching eight passes, two for TDs. "I'm just happy the way he bounced back after the first drive and was able to lead us. He's our leader, and we lean on him on big-time plays like that."
Apparently Stanley was destined to take off and show off his leaping ability.
"It was just preparation. Watching a lot of film and just visualizing their defense and our plays. I'm not kidding when I say I dreamed about that moment," Stanley said of leapfrogging safety El Attrach in the open field. "It was literally on the left hash, as well, in my dream. I'm just so proud of our team and how we went out. I was telling our guys, 'That's the team that we are. That's who we are. That's who I saw in fall camp.' That was a complete game. Offense, defense and special teams. And I can't be more proud of this program."
As Stanley referenced, the defense controlled BC throughout the second half, shutting out the Eagles on their final seven possessions.
Said linebacker Dru Prox, who finished with 10 tackles: "Really our mindset coming back out in the second half was we've got to play harder than we did the first half so we could have a really big win. We wanted to beat them — but we really wanted to dominate them. Just to show that we're really a physical team and we can be a physical team whenever we need to be."
Miles has referenced the importance of physicality since the spring of his first year in charge. And he liked seeing some of that out of KU's quarterback, too.
"It shows everyone that he cares as much as they do," Miles said of Stanley's willingness to lower his shoulder or block a defender on a play for a running back. "Putting your body at risk for your teammates, they recognize that."
And is Miles OK with his starting QB getting into all those hazardous predicaments?
"There's some things I'd probably like to take back. Like the jump over the top of the guy? We need to give him kind of a height range," Miles said, "for if he's allowed to jump over them or not. Like 4-foot-8 kind of guy."
It didn't seem anyone was stopping Stanley at BC — not even Stanley. The early interception was long forgotten by all by the end of the night.
Herbert, a senior running back whose 82-yard blow to the BC defense seemed to break the Eagles, credited Stanley for his ability to move past one bad play and respond with a memorable night for the entire program.
"That's 9. Just poised. Confidence. Swagger," Herbert said. "He made a mistake. Didn't pout about it, didn't cry, just went back out there and went and made some plays."
Behind KU's 567 yards of total offense and the defense's ability to get off the field and keep BC out of the end zone late, the Jayhawks beat a Power Five team on the road for the first time since a 2008 win at Iowa State.
"Those things are going to happen more regularly to our program at a great school like Kansas," a pleased Miles predicted after the win in his team's nonconference finale. "Can't tell you how happy I am for those kids.
"If anybody wants to know why a guy would come back to college football, this night tells you how fun, how important college football is."
KU hosts West Virginia on Sept. 21 at David Booth Kansas Memorial Stadium.
SCORING SUMMARY
FIRST QUARTER
12:41 — A.J. Dillon 2 run. Aaron Boumerhi kick. Seven-play drive for 75 yards, in 2:19. (BC 7, KU 0.)
11:09 — Boumerhi 40 field goal. Four-play drive for 4 yards, in 0:43. (BC 10, KU 0.)
3:27 — Jack Luavasa 19 pass from Carter Stanley. Liam Jones kick. Eight-play drive for 78 yards, in 3:54. (BC 10, KU 7.)
0:17 — Korab Idrizi 20 pass from Anthony Brown. Boumerhi kick. Ten-play drive for 73 yards, in 3:05. (BC 17, KU 7.)
SECOND QUARTER
14:19 — Hudson Hall 1 run. Jones kick. Three-play drive for 48 yards, in 0:50. (BC 17, KU 14.)
3:41 — Andrew Parchment 4 pass from Stanley. Jones kick. Eleven-play drive for 81 yards in 5:15. (KU 21, BC 17.)
0:45 — Brown 12 pass from C.J. Lewis. Boumerhi kick. Eight-play drive for 72 yards, in 2:48. (BC 24, KU 21.)
0:05 — Parchment 3 pass from Stanley. Jones kick. Four-play drive for 85 yards, in 0:35. (KU 28, BC 24.)
THIRD QUARTER
10:24 — Jones 24 field goal. Twelve-play drive for 69 yards, in 4:32. (KU 31, BC 24.)
5:25 — Pooka Williams 12 run. Jones kick. Eight-play drive for 87 yards, in 3:12. (KU 38, BC 24.)
0:35 — Jones 30 field goal. Nine-play drive for 60 yards, in 3:57. (KU 41, BC 24.)
FOURTH QUARTER
5:44 — Khalil Herbert 6 run. Jones kick. One-play drive for 6 yards in 0:06. (KU 48, BC 24.)