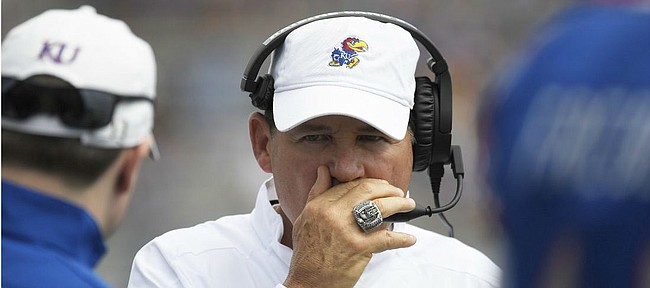 The Kansas football team only had the ball twice during the final 15 minutes while trailing at home against Coastal Carolina.
Head coach Les Miles wanted to go for it on fourth down in the opening minute of the fourth quarter and he had to go for it again in the final minutes, with no time outs left.
Neither play resulted in a first down. Throw in a failed fourth down conversion in the third quarter of the Jayhawks' loss to CCU and one that came up short a week earlier and they're 0-for-4 in those situations through two games (technically 0-for-5 due to running out the clock on the final play of a win over Indiana State).
If the most recent failed fourth down conversion — the one KU ran on fourth-and-3 from its own 27-yard line, with a little more than four minutes to play this past Saturday — seemed more troubling than others it was because the Jayhawks ran the ball even though the Chanticleers defense stacked the box in anticipation.
Out of an offset I-formation with one receiver, Andrew Parchment, lined up wide left, KU ran an option play to the right. Quarterback Carter Stanley quickly had a defender in his face. And when Stanley pitched the ball to Pooka Williams, the sophomore running back had four defenders coming at him behind the line of scrimmage before somehow gaining one yard.
Are there ways for Stanley, the fifth-year senior QB, to get out of such plays before the snap, and put the offense in better plays when he sees those kinds of numbers advantages for the defense?
"We have a lot of short yardage plays for scenarios like that," Stanley said, also referring to the 3rd down run (a one-yard loss by Williams) that came before KU's final snap of the loss.
"Unfortunately some of the plays we called in those situations didn't work out Saturday," the QB said. "I think we have a lot more in the arsenal."
Stanley was asked on Monday whether he is able to audible in those situations.
"It really just depends on the play," he replied. "To be honest, some plays not at all. Other plays definitely a good amount. It just really depends."
Regardless of KU's lack of success on fourth downs so far, which includes a mixed bag of field goal tries, Miles doesn't expect to let any of those results from his team's 1-1 start impact his decision making process moving forward.
"I think I've always been pretty aggressive on fourth down," Miles said, when asked whether KU kickers going a combined 1-for-3 on field goals and 2-for-3 on PATs might influence his fourth down play-calling to come.
What follows is a rundown of the situations in which Miles has gone for it on fourth down in the first two weeks:
• Third quarter vs. Indiana State — Fourth-and-2 at ISU 21-yard line, with KU leading 16-3. Result: A fumbled snap exchange between Stanley and center Api Mane led to an ISU recovery.
• Third quarter vs. Coastal Carolina — Fourth-and-1 at CCU 41-yard line, with KU down 12-7. Result: Reverse to receiver Andrew Parchment stopped for no gain.
• Fourth quarter vs. CCU — Fourth-and-4 at CCU 17-yard line, with KU down 12-7. Result: After two timeouts by KU, sandwiched around one by CCU, Stanley kept the ball on a pass play going nowhere and was stopped for a one-yard gain.
• Fourth quarter vs. CCU — Fourth-and-3 at KU 27-yard line, with KU down 12-7. Result: The Chanticleers stopped an option run by Williams for a one-yard gain.
Even though those plays haven't yielded any success for Kansas, starting center Andru Tovi said the Jayhawks like having chances to extend drives on fourth downs.
After the KU offense failed on three of them, contributing to the defeat against CCU, Tovi expected reviewing those situations with their coaches will better prepare them for future fourth downs.
"We're going to learn from what we should've done and how we should've executed," Tovi said. "But for the most part I'm proud of my team no matter what. We still fought it out until the end."
Said Stanley: "Regardless of what play we called, as players we've got to go out there and all 11 guys have to execute. And on some of those plays it just wasn't there."
Through two games, and 19 possessions during which KU was looking to move the ball (throw out the series spent running out the clock in the fourth quarter in Week 1), the Jayhawks have crossed their opponent's 35-yard nine times. Three of those were touchdown drives, two of them ended in a KU giveaway and one concluded with a failed fourth down. On the other three drives into scoring territory, Miles sent out a kicker to try a field goal.
In Week 1, junior Liam Jones missed a 49-yard try and connected from 36 yards. (Jones also went 1-for-2 on extra points.)
Freshman Jacob Borcila handled place kicking duties versus Coastal Carolina. He missed a 40-yard attempt with two seconds left in the first half and KU up 7-6.
If Miles has specific plans to use either Jones or Borcila Friday night at Boston College (6:30 p.m., ACC Network), he didn't want to reveal them during his weekly press conference. All Miles said about the kicking competition is that he thinks KU's two kickers will get better.
"I think that there's an opportunity for us to continue to compete at the kicking spot, and Liam Jones, in my opinion, is really improving, and I think our young freshman kicker will, also," Miles said. "He has a talented leg and is a very capable guy. And I think we have to understand to a certain extent that this is the first couple games, and there will be some 'what is this about' showing up. And I think they'll be fine."