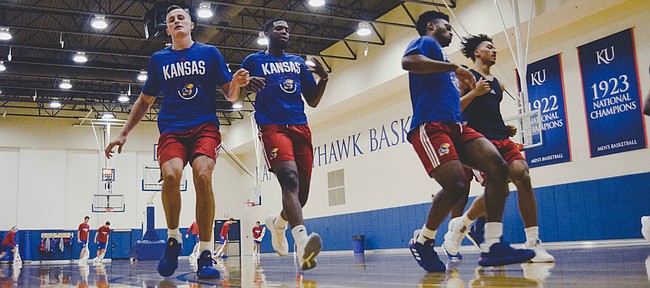 Iowa graduate transfer Isaiah Moss has been on KU's campus for about a month but already has shown he fits in well.
The reason?
"He's a veteran," sophomore point guard Devon Dotson recently told the Journal-World. "He knows what it takes out there and in practice. He knows what it takes to succeed at the highest level."
Dotson has seen that from Moss for years. Back when the KU point guard was in high school, his older brother, Dalen, played AAU ball with Moss and the Dotson family has been close with Moss ever since.
"It's been cool catching up with him and just talking about memories my brother and him had together," Dotson said. "I wasn't playing with them, so, yeah, I was forced to go, but I wanted to watch. I wanted to be around basketball whenever I could. And it's fun having him around."
Few Jayhawks know that better than senior forward Mitch Lightfoot, who is Moss' roommate and has had opportunities beyond the practice gym and the weight room to get to know him.
"We hang out a lot," Lightfoot said. "And he's a super nice, down-to-earth dude and he just seems super locked in. He's going to help us a lot this year."
Moss arrived on campus a little later than most of his teammates because of his summer internship with the nonprofit group Rainbow PUSH Coalition in his hometown of Chicago. While there, Moss worked out on his own in gyms around the city and spent a good chunk of his days running youth basketball camps.
Like Dotson, Lightfoot said Moss' maturity already has shown up during the former Iowa guard's first few weeks with the team.
"We were talking about it the other day," Lightfoot said. "And it's going to be easier for him just because he's been around college systems before. When you're a freshman, it's kind of hard to pick up on those things that fast. He picked up (KU's offense known as) '2 game' in like 10 minutes. It took me about six months. He's done a good job of picking things up quickly."
It's not just the fact that he's a quick learner or nice guy that has Lightfoot, Dotson and the rest of the Jayhawks excited to have Moss on the roster. They genuinely believe that the former Iowa standout is going to add to KU's already dangerous arsenal.
KU coach Bill Self has said that he expects Moss to be one of the better 3-point shooters in the Big 12 Conference. And Moss' track record as a career 39% shooter from behind the arc (42% last season) lends support to that claim.
"He can definitely play," Lightfoot said. "That's why coach recruited him. He knows he can play here, he knows he'll help make us a better team and he'll definitely help a lot."
One of just two returning seniors on the roster, Lightfoot said having another veteran to help keep the Jayhawks accountable in every way would do wonders for KU's preparation and goals for the 2019-20 season.
"Just having some more senior leadership, that's always good," Lightfoot said. "He makes his teammates better and I think he's really going to surprise some people this year. He's going to surpass expectations."