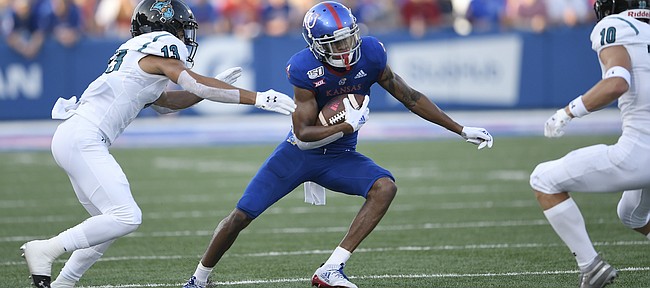 Pooka Williams Jr. had more to discuss on Saturday night than the first game of his sophomore season with the Kansas football program.
It had been 363 days since Williams proved he could be a game-changing running back for the Jayhawks in his freshman debut at Central Michigan. But Williams didn't field questions from the media for the first time in his college career until nearly a full year later, following a 12-7 KU home loss at the hands of Coastal Carolina.
Suspended from team activities much of the offseason, including throughout spring football, and suspended by KU from playing in the team's opener this season, in the wake of a December arrest and domestic battery charge, Williams opened up a more than seven-minute interview session by apologizing for his actions and "poor decisions," while saying he is "growing as a better man."
Photo Gallery
Photo gallery: KU falls to Coastal Carolina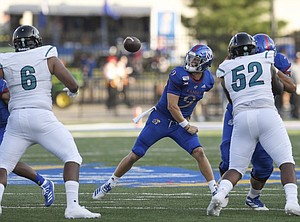 Photo gallery: KU drops 12-7 decision to Coastal Carolina
Williams allegedly punched a woman in the stomach in an incident that led to his arrest on suspicion of domestic battery in December 2018, shortly after his successful freshman season that included All-Big 12 accolades. A diversion agreement was eventually reached in the case, and KU suspended its star running back for the season opener as part of his punishment.
Kansas head coach Les Miles indicated after Williams was reinstated in July he planned to have the sophomore speak to the team about his troubling offseason. As of Saturday night, Williams, who has been described as quiet and somewhat shy by his coaches and teammates, has not done that.
"Not yet," Williams said. "I will, though. I'm working on it."
According to Williams, he is looking forward to following through on Miles' request because being back on the team means a lot to him.
At some point during the offseason, Williams said he thought he might not get that opportunity.
"I just humbled myself, for real," he said of the time before his second chance from the program and the school's administration became official, "and I prayed that the University of Kansas would take me back."
Once he rejoined his teammates in the summer, before preseason camp began, Williams said he sought out several of them individually.
"I spoke with mostly the starters and most of the people I'm comfortable with on the team," Williams said.
What did he want to let them know?
"I'm not really going to say what I wanted to say to y'all," Williams said. "It's between me and my teammates."
He did, however, say he "basically" offered them apologies for his offseason actions, which led to his arrest, suspension and an overall bad look for the program.
In his return to the lineup, Williams rushed for 99 yards and contributed 10 receiving yards for KU against the Chanticleers. He was the last Jayhawk to touch the football, coming up 2 yards short on a desperation 4th down play call at KU's 27-yard line with a little more than four minutes to play.
"At that moment it was mostly like I let everybody down and let the team down," Williams said, "because they trust me with 4th down and 3. And I felt like I just let them down. But I just had to bounce back in reality."
Earlier in the fourth quarter, on another 4th down try for the KU offense, it looked like Williams might have been hit by a defender while trying to get open for a would-be pass from quarterback Carter Stanley. Williams declined to point any fingers at the officials for a no call on a play that resulted in a turnover on downs.
"We can't make no excuses at all," Williams said. "If they didn't call it, they didn't call it. There's nothing — it's not like can go back and redo it."
Though he missed a little time in the first half of the loss after getting hit, Williams described the physical setback as a stinger that shouldn't hinder him moving forward.
Mostly, the running back felt disappointed that he only had a "routine" night and KU lost.
"The energy was down," Williams said of the scene in the locker room after the game, "but at the same time it's supposed to be down because it's a loss. So it's all how we're going to shake back from the loss on Friday (at Boston College)."
Miles said after his first defeat as KU's head coach that he felt as though the Jayhawks (1-1) should have won.
Williams said the players agreed.
"We feel like we should win every game, any game, no matter who we play," he said.
During Williams' 2018 season, team rules put in place by then head coach David Beaty prohibited freshmen from speaking to the media.