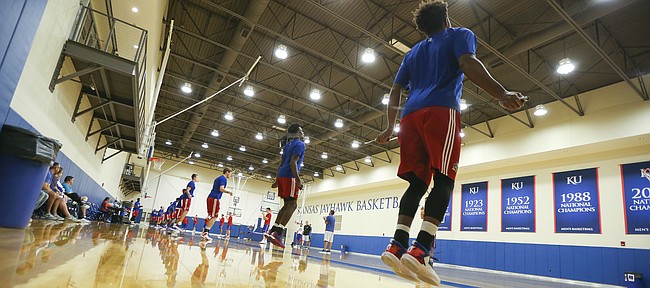 Although the 2019 edition of KU men's basketball boot camp will feature the same drills and challenges as most years, it also will have a new look.
Kansas coach Bill Self told the Journal-World on Sunday that first-year strength and conditioning coach Ramsey Nijem will be on hand for the start of this year's event, scheduled for 6:50 a.m. Monday.
Officially hired by Self last week to replace Texas-bound strength coach Andrea Hudy, Nijem comes to Kansas after five years as the head strength coach with the Sacramento Kings.
While it's unlikely that Nijem will have much of an impact on Day 1 with his new team, one of the things Self liked most about his new, 28-year-old strength coach was his energy and enthusiasm and that figures to serve the Jayhawks well starting this week.
A staple of the KU program under Self, and a scene that most newcomers fear, boot camp is designed to push the players past their limits and bring them closer together.
"It's kind of a mental thing that we put our guys through," Self said ahead of last year's boot camp. "For two weeks, anything goes basically. And anything could go, whether it be 5 a.m. wake-up calls to workouts to afternoon type things to if you're a minute late to tutoring to if you're a minute late to class, anything goes. Whatever we say, that's two weeks that they can't argue with us."
Basketballs are rarely seen in the gym during the two weeks of boot camp, and the idea behind the early start is to add another layer to the mental test that is boot camp.
Throughout the past, former KU players have said that showing up on time for boot camp is the same as being late. As a result, many of them show up to the gym as early as 6 a.m., if not earlier, to make sure their minds and bodies are ready for the challenge.
In addition to Nijem getting his first taste of boot camp, this year's session will be new territory for seven Kansas players.
Incoming freshmen Christian Braun, Tristan Enaruna, Dajuan Harris, Mackey McBride, Jalen Wilson and walk-on Michael Jankovich, along with senior grad transfer Isaiah Moss will be seeing it all for the first time.
"The drill work and getting their bodies in shape, getting their feet in shape and everything else, it's probably more than most have gone through," Self said a year ago. "Of course, it's not anything that they can't get through. But they have a sense of pride when they do it together as a team, and I think it's been a great team-building experience for us."