Sunday, September 8, 2019
After an emotionally draining loss to Coastal Carolina on Saturday night, Kansas football quarterback Carter Stanley expressed his remorse about his play in particular, going as far as to say he was to blame for the 12-7 setback.
Stanley described the scene in the locker room afterward as "tough" and "what you would expect" from a group of KU players and coaches who felt as though they should have left Week 2 with a victory.
"That's a game we should win 10 times out of 10," Stanley said. "I give credit to those guys (the Chanticleers) — they had a really good game plan and some talented guys. Just being around these guys and this staff, we should win that game."
Given his belief that KU had the personnel and staff to make a 2-0 start a reality, Stanley took the loss hard.
Photo Gallery
Photo gallery: KU falls to Coastal Carolina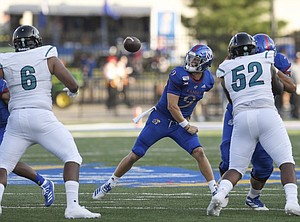 Photo gallery: KU drops 12-7 decision to Coastal Carolina
The fifth-year senior, who a week earlier orchestrated a game-winning drive against Indiana State, never could duplicate that type of rhythm or accuracy against CCU (1-1).
Stanley finished the loss 13-for-19 passing, with only 107 yards to show with his two interceptions and zero touchdowns.
"Me personally, I let the team down today," Stanley said, fighting back tears, after KU fell to 1-1. "We had more than enough. We've got to move on from it, come to work (Sunday) and be ready for Friday (at Boston College)."
As of Saturday night, KU head coach Les Miles refrained from making any immediate decision about Stanley's role as the starting QB moving forward.
Whether Stanley keeps his spot atop the depth chart throughout the week and at Boston College (2-0) on Friday night remains to be seen. His battle with junior Thomas MacVittie to become KU's No. 1 QB lasted throughout spring football, preseason camp and some of the week leading up to KU's opener.
Stanley said he could have done much better in Week 2 on a pair of throws that ended up being picked off by CCU cornerback Chandler Kryst.
The first mistake came early in the second quarter and killed what had the makings of a promising drive. KU already had picked up three first downs on the series and had a second-and-4 at the visitors' 39-yard line when Stanley forced a throw toward the end zone for junior Andrew Parchment.
"We're looking to make it 14-0," Stanley recalled. "I didn't like the look originally downfield. I kind of moved in the pocket, went to the right. I've just got to take off right there. I've got to be able to run."
Instead, he thought a defensive back near Parchment was breaking toward him. That's when Stanley decided to throw and CCU secured its first takeaway.
"I've got to know that there wasn't a lot of room there," Stanley said. "If I were to run I would've got a lot more yards and it would've helped our team a lot more."
Interception No. 2 for Stanley, who played a part in three lost fumbles for KU a week earlier, came about early in the third quarter, just after the Kansas defense opened the second half with a three-and-out.
The Jayhawks began the drive 39 yards away from the end zone. But on third-and-9, Stanley said a "miscommunication" for which he took the blame resulted in the QB scrambling while pressured and trying to lead Stephon Robinson into a reception, with a defender on his tail.
Some receivers were out of position on the call, as well, the QB said. Stanley said the particular play verbiage included two words that are pronounced similarly, but "mean two completely different things."
Ultimately, three defenders ended up in the area where Stanley aimed to lead Robinson, and Kryst picked it off.
"I've got to manage that play better, knowing the situation," Stanley said. "You don't have to make a big play out of it. You've either got to look backside at my checkdown or scramble or throw it away or something. But definitely not that."
https://www.youtube.com/watch?v=CccZYeSPoHU
https://www.youtube.com/watch?v=z4pMFdFDIG0
https://www.youtube.com/watch?v=5bGkQ_Tzqz4
https://www.youtube.com/watch?v=CccZYeSPoHU