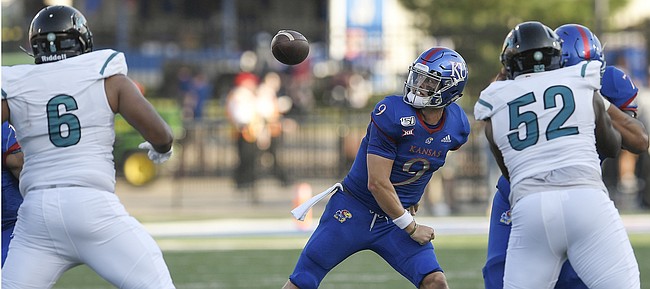 Carter Stanley got through his first start of the season without an interception but the Kansas quarterback couldn't extend that streak to two games on Saturday against Coastal Carolina.
On Stanley's ninth throw of what proved to be a 12-7 KU loss at David Booth Kansas Memorial Stadium, the KU QB got picked off looking for receiver Andrew Parchment deep down the right sideline, early in the second quarter.
Shortly after halftime, Stanley misfired on a much shorter throw, while being pressured on 3rd and 9. The fifth-year senior from Vero Beach, Fla., was on the move and again looking for Parchment after KU opened the drive in CCU territory.
However, Coastal senior cornerback Chandler Kryst picked off Stanley for the second time on the night, as Stanley threw well to the right of and past Parchment.
Stanley finished the game completing 13 of his 19 passes, for only 107 yards and no touchdowns, to go with his two interceptions.
Head coach Les Miles said afterward he would wait before addressing Stanley's status as the starting QB.
"I'm going to do the old coach thing. I want to watch this film," Miles said. "I want to see what he say and why." "We'll have to see what the film brings and allows us to be more finite."
Photo Gallery
Photo gallery: KU falls to Coastal Carolina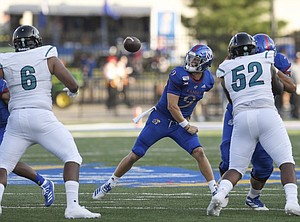 Photo gallery: KU drops 12-7 decision to Coastal Carolina
No Burt
After starting for the first time in his KU career in Week 1, junior defensive end Sam Burt, a former walk-on, was forced to sit out Saturday's game against Coastal Carolina due to an undisclosed injury.
In Burt's absence, KU plugged in senior Codey Cole III on its defensive line, next to regular starters Jelani Brown and Darrius Moragne.
Cole, in his first career start, produced one tackle.
As early as CCU's second offensive series, the KU defense subbed in sophomore defensive lineman Malcolm Lee for Cole at defensive end. Lee finished with five total stops.
Borcila debuts at kicker
A week following an opener that included a missed field goal and a missed extra point by junior Liam Jones, KU switched up its look at place kicker versus Coastal Carolina.
A true freshman from Westerville, Ohio, Jacob Borcila made his first appearance as a Jayhawk a few minutes into the game against Coastal Carolina.
After KU struck first with a 41-yard Khalil Herbert rushing touchdown, Borcila ran onto the field for the extra point and sent the PAT through the uprights for a 7-0 Kansas lead.
It wasn't until the final seconds of the first half that KU had a chance to call upon Borcila again. With the Jayhawks trying to add to their narrow, 7-6 lead, Les Miles opted to have Borcila try a 40-yard field goal with 6 seconds on the second quarter clock.
CCU head coach Jamey Chadwell used his last two timeouts of the half before Borcila finally was able to kick, and he missed it wide left.
Jones still handled KU's kickoffs. Borcila had no other attempts.
O-line rotation
On an offensive line expected to rotate players in and out throughout this season, KU only made one change to its starting five up front against CCU.
At right tackle, senior Kevin Feder started instead of senior Clyde McCauley III. The other four starters remained the same: senior left tackle Hakeem Adeniji, junior left guard Malik Clark, senior center Andru Tovi and junior right guard Chris Hughes.
As expected, KU rotated immediately on the second series at three of those spots: junior Api Mane at center, junior Adagio Lopeti at right guard and senior Clyde McCauley III at right tackle.
Crazy week for Chanticleers
The players and coaches for Coastal Carolina experienced a far from normal game week leading up to their trip to KU.
Hurricane Dorian forced the Chanticleers out on Conway, S.C., on Monday. They spent the days that followed setting up shop in Greenville, S.C., and preparing for their matchup with the Jayhawks at various facilities in that general area.
CCU took advantage of the hospitality offered by programs small and large, from Christ Church Episcopal School, to North Greenville University, to Furman University to national powerhouse Clemson.
The team arrived in Lawrence on Friday after the hectic week.
It marked the second season in a row CCU football had to relocate due to a storm. Hurricane Florence, in 2018, forced the Chanticleers to evacuate campus and their homes in September. After spending 12 days on the road in North Carolina, Florida and Louisiana, they returned home. But campus was still closed due to flooding and the team spent another week in hotels.
KU to face Virginia — eventually
KU announced it has set up a home and home series with Virginia. The first of the nonconference meetings will not come, however, until 2029, when the Jayhawks are scheduled to travel out to ACC country to face the Cavaliers.
Virginia will then play at Kansas in 2030.
"While it may seem that this series is far into the future," KU Athletic Director Jeff Long said in a release, "that is the reality of scheduling college football games in 2019. We are pleased to add a Power Five program to our schedule, especially one that shares our AAU status and is a peer institution for our university."
The Jayhawks have faced Virginia twice in football. UVA won both meetings, in 1990 and 1991.
New pregame tradition?
As KU looks to reinvigorate its long struggling football program, some new game day routines have been introduced to students, as well.
As the Jayhawks took the field before each of their first two home games on the schedule, they were greeted by 250-plus students, lined up north of KU's band on the field, as KU players and coaches ran out of the tunnel with music blaring and pyrotechnics firing.
Long stated in a letter he wrote to fans that the athletic department wanted to test out the possible new tradition in the opener and KU will incorporate students into the team entrance for every game moving forward.