I've covered Kansas football long enough to know better, and even I thought this was going to be different.
It wasn't. It isn't. Oh, the dangers of listening to, and believing, what the coaches are saying during preseason camp.
"This is a painful second game," KU coach Les Miles said after Saturday's 12-7 home loss to Coastal Carolina. "But this team will fight."
It's not that I thought Kansas was all of a sudden going to be a great team capable of beating anyone any week. But I did think that Miles would make enough of a difference to keep KU from fighting for its life during the non-conference portion of the schedule. There's plenty of time for that when the big, bad Big 12 programs come calling.
Put another way: I thought Miles would run the ball a lot and then run it a little more and that would be enough.
Oops.
Photo Gallery
Photo gallery: KU falls to Coastal Carolina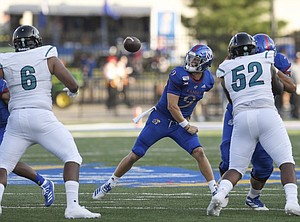 Photo gallery: KU drops 12-7 decision to Coastal Carolina
The Jayhawks did that at times during Saturday's 12-7 loss to Coastal Carolina, which dropped them to 1-1 overall and came on the heels of a survive-by-the-skin-of-your-teeth win last week over FCS squad Indiana State, but not enough.
Miles' offense also hurt itself far too often and did way too little in the passing game to allow a ground-and-pound game plan to fully materialize.
Coastal Carolina (1-1) ran it 12 more times than Kansas on Saturday. The Chanticleers' rushing yardage total was only a yard off of KU's (37 for 173 vs. 49 for 172), but all of those extra carries ate clock and bullied the Jayhawks. In a game decided by such a slim margin, that kind of production is critical.
Senior quarterback Carter Stanley also made it tough on KU's running game. A week after completing 69% of his passes and orchestrating a game-winning drive in the final few minutes, Stanley finished 13-of-19 passing for 107 yards and two interceptions.
While play calling and sub-par play in the passing game created problems all night — the fourth-down call after three consecutive timeouts (two by KU) early in the fourth quarter likely will haunt KU for a long time — the Jayhawks' offensive line did very little to help solve either problem.
The more things change, the more things stay the same. Ten seasons into its post-Mark Mangino nightmare, the Jayhawks are still looking for a quarterback and adequate offensive line play.
Throughout August, Miles constantly praised his offensive line, at one point going as far as to predict it would be one of the best in the country.
In almost the same breath, Miles caught himself and said he went too far, that he should've just stuck with calling them really good instead of placing them among the country's elite.
As it turns out, he would've been better off not saying anything about them at all.
Through two weeks of a 2019 season that had fans excited enough to bring crowds of more than 32,000 back to Memorial Stadium for back to back games, KU's O-Line has struggled.
All-world running back Pooka Williams (109 total yards on 24 touches) returned to the lineup after a one-game suspension on Saturday, but not even that was enough to remedy the issues the O-Line showed in Week 1.
The reason this is so troubling for Kansas is because of what poor line play takes away.
Williams, Khalil Herbert, Dom Williams and even Velton Gardner are all good running backs. They have different strengths, blend well together and each can carry the load for a drive, a quarter or work in tandem to keep opposing defenses off balance.
But that only works if the O-Line does its job. And so far it hasn't — at least not well enough to think there are many good days ahead this season.
With a road game at unbeaten Boston College looming and the start of the Big 12 gauntlet arriving after that, a 1-11 season is now very much in play.
The Jayhawks have time to get better. And they may. But will they improve enough to jump on a different path than the one that has become oh so common around here for the past 10 years?
It's hard to bet on that after Saturday night.
Miles isn't worried about that. He's more concerned with working the process and believes that will be enough.
"I wasn't here in the past and I don't really know exactly how they looked," he said. "I'm worried more about the players that I coach and the coaches and their families than I am a view that would link me to an unsuccessful past. I think you'll find that our football team will continue to improve. And I'd say there's a reason to believe that that'll happen. But I've got to do my job. This is the position that we're in and we need to take some steps."
https://www.youtube.com/watch?v=CccZYeSPoHU
https://www.youtube.com/watch?v=z4pMFdFDIG0
https://www.youtube.com/watch?v=5bGkQ_Tzqz4