The first win over a Power 5 team is no small feat for a football program, something that Coastal Carolina sophomore quarterback Fred Payton immediately recognized after the Chanticleers 12-7 win over Kansas Saturday night.
"Just knowing that I was able to be a part of a team that got our first Power 5 win in school history is big," Payton said. "I mean, not many people can say that."
But Payton, head coach Jamey Chadwell and the rest of the team had a tumultuous journey to get to this point.
Coastal Carolina's campus was closed this week with Hurricane Dorian expected to hit South Carolina and the east coast, with South Carolina Governor Henry McMaster ordering an evacuation for "all schools and state government agencies in Horry and Georgetown counties beginning Sept. 3."
And with its first road game of the year against KU on Sept. 7, this forced Chadwell and his team to call a bit of an audible.
"And it was a challenge because we're creatures of habit," head coach Jamey Chadwell said. "We're practicing one night at (8:00 p.m.) and the next day we're practicing at (4:00 p.m.) and we're driving 45 minutes to an hour each way. That was hard."
What helped, though, was practicing at different schools in the area that opened their doors to the Chanticleers, including Clemson, Furman and North Greenville.
By the end of the week, Chadwell felt the team had grown closer together, even with practicing at foreign facilities and taking online classes.
"But I got a sense Thursday after we had been through some of those things, the guys just started to really lock in and focusing on, 'Hey, we can win this game if we go out and do some things,'" Chadwell said.
"I think it brought us together a lot, to go through an experience like this and an event like this, because you know, a hurricane that's a life disaster," Payton added. "People really (lose) something from that. Coming together, being able to stick through that and coming together victorious at the end felt great."
Payton said the coaching staff preached focus throughout the week with changing environments and honing in on the goal of securing the program's first Power 5 victory.
"Every time we lifted, focus," Payton said. "Every time we practiced, focus."
That focus came through on Saturday, as Coastal Carolina contained KU for the majority of the game, holding the Jayhawk rushing attack to 173 yards and, more importantly, sophomore running back Pooka Williams Jr. to 99 yards.
Photo Gallery
Photo gallery: KU falls to Coastal Carolina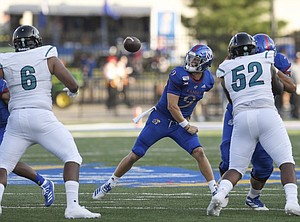 Photo gallery: KU drops 12-7 decision to Coastal Carolina
"They were doing some good stuff early and I think what happened is, maybe they got a little away from it," Chadwell said. "Maybe we got a stop and made it second-and-long, and instead of doing it again, maybe they threw it and got behind the sticks. Or they had a third down and we stopped them and it was a fourth-and-long."
Instead, the main goal for Chadwell while planning for senior quarterback Carter Stanley and the KU offense was to force Stanley to beat them.
"We knew Pooka was a great player, and if he got out we were in trouble," Chadwell said. "They got loose early. Fortunately we were able to hang in and do some things there and as it got going on, they had some fourth down decisions to make and stopped them."
However, the plan was altered once Coastal Carolina sophomore kicker Massimo Biscardi missed two field goal attempts, a 31-yarder in the second quarter and a 27-yarder in the fourth quarter.
"So I just think that made it where you're making decisions going, 'Holy crap, what do we need to do to try to hold the ball,'" Chadwell said. "Because I wasn't about to kick it again after he was shanking them left and right. It made us nervous, but we were able to build through it."
But special teams and fourth down conversions played a role for both sides.
To end the first half, three timeouts were called (two from Coastal Carolina, one from KU) to ice the kicker.
The result? A missed 40-yard field goal attempt from KU freshman Jacob Borcila.
Then at the beginning of the fourth quarter, three consecutive timeouts were called (two from KU, one from Coastal Carolina) to figure out the correct scheme for a Jayhawk fourth down conversion attempt.
The result? A one-yard dive from Stanley that didn't reach the mark.
"I thought that was unusual," Chadwell said. "I don't know if (KU coach Les Miles) had a fake on, because he's used to doing those things. And we were ready for that, that's why I called timeout.
"But they didn't come away with anything and I thought that was big."
Payton, watching from the sidelines on both plays, thought the exchange was pretty entertaining.
"It was actually kind of exciting to watch to me, watching the ice the kicker game, things of that nature," Payton said. "It was big for us getting them to run out of their timeouts early in the fourth quarter."
While it wasn't pretty for Coastal Carolina's offense either with just the 12 points, Payton said the Chanticleers established the run enough and the defense "held up their end of the bargain" stopping the run game.
As the clock expired, Coastal Carolina wasted no time racing onto the field. That energy, something Payton said every team needs to have, was just a testament to the journey to this victory.
"Every team comes with energy and if you don't, they'll pop you in the mouth. The main thing we were focusing on was popping them first," Payton said. "So we came out popping them in the mouth and having energy the whole game, and being able to sustain our endurance levels the whole game were key factors."
https://www.youtube.com/watch?v=CccZYeSPoHU
https://www.youtube.com/watch?v=z4pMFdFDIG0
https://www.youtube.com/watch?v=5bGkQ_Tzqz4