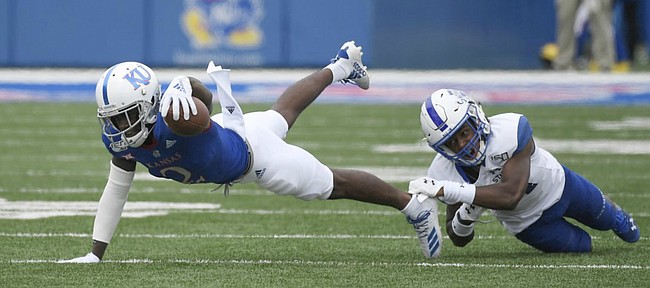 From the time Les Miles stepped into the Kansas football facilities this past winter, the veterans in the program began anticipating how the 2019 season could play out differently for them.
With Miles' seven seasons of double-digit victories, plus the two SEC titles and the national championship he won at LSU, KU's players suddenly found themselves answering to a head coach of high college football pedigree.
And the more they learned from Miles and his staff, the more the Jayhawks became convinced they could emulate one of Miles' many successful teams from his days at LSU or Oklahoma State.
Saturday's season opener against Indiana State served as KU's first chance to live up to Miles' high standards.
A 24-17 victory over the FCS No. 16-ranked Sycamores required a late-game, high-pressure touchdown drive to regain the lead and secure a win.
Photo Gallery
Photo gallery: Late rally lifts Kansas football past Indiana State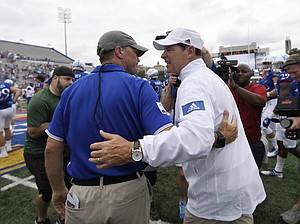 Photo gallery: Late rally lifts Kansas football past Indiana State
So was the Jayhawks' brand of football in the opener worthy of Miles' name and legacy?
"To be completely honest, no," replied fifth-year senior quarterback Carter Stanley. "Because we can play a lot better than we did today."
Several Jayhawks who played key roles in the win echoed that sentiment.
Senior receiver Daylon Charlot, who hauled in a career-best six catches for 79 yards and the victory-securing touchdown, said KU (1-0) will begin fixing some of its problems on Monday before the Jayhawks take on Coastal Carolina (0-1) on Saturday.
"I feel like we did good, but I also feel like we have room for improvement," Charlot said after KU posted just 344 yards of offense versus ISU. "There's a lot of things we need to work on."
In some aspects, the Jayhawks thought they represented Miles well with their Week 1 victory.
"Hard fought. Gritty," senior running back Khalil Herbert said of some qualities they showed that match their head coach. "Make plays when we need to make them."
Miles and players alike referenced imperfections and issues that, for them, marred facets of the win. Still, unlike past KU teams, which might have failed to finish strong after blowing a lead in the fourth quarter, Herbert loved the way the offense produced in crunch time down on the scoreboard.
"Paying attention to the keys that the defense is showing us, paying attention to the calls," Herbert said of how the Jayhawks made it happen, going 75 yards in just eight plays. "Knowing where you've got to go, knowing where you've got to protect, protecting the ball."
Senior cornerback Hasan Defense credited Miles' demeanor and approach for the players' fourth-quarter response, after Stanley was sacked and ISU scored a defensive TD to take the lead.
"No one was nervous," Defense said. "No one was shocked. We just stayed composed and played our role."
According to Stanley, those vibes played a part in him completing four of his six throws, including a 22-yard TD for Charlot, on the decisive drive.
"In the most hectic parts of this game, he was still 68, breezy, calm," Stanley said of Miles, "and that reflects on the rest of us and helps the rest of us be calm." 
Stanley credited KU's defense, which kept ISU (0-1) out of the end zone on all but one of the Sycamores' 11 offensive series. And he thought KU's offense showed some solid signs but didn't play to its potential.
"But we'll definitely hash out some of the bad," Stanley added, "and be cleaner next week."
For all their warts, the man wearing the national championship ring on his right hand seemed more appreciative than critical after his KU coaching debut.
"I don't know that I've enjoyed a group of men and a team and their effort any more than the one that I enjoyed right here today," Miles said.
More KU debuts
Several Jayhawks played their first games for the program on Saturday.
The following offensive players on the roster made their debuts: running back Velton Gardner, receiver Andrew Parchment, running back Donovan Franklin, fullbacks Ben Miles and Spencer Roe, tight end Mason Fairchild, offensive linemen Jacobi Lott and Adagio Lopeti, receiver Jamahl Horne and running back Rob Fiorentino.
These players listed as defenders on the roster also played for KU for the first time: cornerback Kenny Logan Jr., defensive end Marcus Harris, defensive tackle Da'Jon Terry, linebacker Gavin Potter, safeties Nate Betts and Nick Caudle, linebacker Hayden Hatcher, defensive end Jelani Arnold and defensive tackle Caleb Sampson.