After a one-game stint in the starting lineup last week, Kansas freshman Jalen Wilson was back on the bench at the start of KU's exhibition finale against Pittsburg State on Thursday night at Allen Fieldhouse.
With sophomore point guard Devon Dotson back from an ankle injury, which allowed Marcus Garrett to return to his normal spot in the lineup, Wilson slid into the type of reserve role he is most likely to fill in the weeks ahead.
As long as he's playing some kind of role, that's just fine with the versatile 6-foot-8 forward from Denton, Texas, who finished Thursday's game with three points and two rebounds in 16 minutes.
"It was like completely different, the energy with the students and stuff," said Wilson of KU's exhibition games compared to the Jayhawks' Late Night scrimmage, his first taste of Allen Fieldhouse. "It was like a real game and the season's here."
That's good news for Wilson and the Jayhawks, according to KU coach Bill Self, who this week called Wilson "a gamer" who rises to the occasion of the bright lights and big stage "as much as any (freshman) we've had in here in a while."
Photo Gallery
KU cruises past Pittsburg State in exhibition finale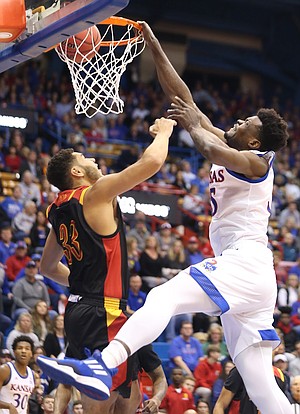 KU cruises past Pittsburg State in exhibition finale
"He's going to be a guy who jumps a lot higher on game night and probably shoots a higher percentage on game night," Self said. "Based on what people have told me, he's always been that type of guy."
As for the experience of being a starter in one of KU's exhibition games, Wilson said that moment of hearing his name called and running onto the floor is not one he soon will forget.
"It was the first one I've ever had, of course, in college," Wilson said. "So I was really trying to pay attention to all the little things and just take advantage of the opportunity I had. Not a lot of people get to do that in Allen Fieldhouse, and I really just had to sit down and realize what was going on."
Moss on the mend
Senior guard Isaiah Moss made his first appearance of the season during KU's victory Thursday night.
The 6-foot-5 graduate transfer from Iowa, who scored 3 points on 1-of-4 shooting in five minutes Thursday, missed two of KU's first tune-up games (Late Night scrimmage and Fort Hays State) with what Self has described as a "nagging" hamstring injury.
"I was told he could play up to 10 (minutes) and it just didn't work out like that," Self said after the game. "One thing about it, we know if he's got a crack he's going to shoot it. That's for sure."
Moss first injured his hamstring on the first official day of practice back in September and re-aggravated it just before the Fort Hays State game.
"He was really progressing at a really good rate," Self said. "You know, I get on guys for not diving for a loose ball and he pulled his hamstring twice by diving for a loose ball. If I had just kept my mouth shut then we might not be dealing with that right now."
On Wednesday, Self said the hope was to get Moss a few minutes against Pitt State and build from there. He also said he was concerned about the injury lingering.
"Not from a long-term standpoint," he added. "But just for him being able to help us immediately because this is all new to him. He'll be nervous and those things. Everybody would be if we just throw you out to the wolves and you haven't had a chance to prep for it."
With five days between now and the regular season opener, and Kansas off on Friday, Moss still has a chance to get up to speed in time for Game 1.
"I thought it was good to get him out there," Self said. "You can tell by watching him that he's not running full speed and stuff. But he didn't hurt himself tonight. I hope that he's available to us on Tuesday. If he's not able to practice Sunday and Monday at least and go close to full speed then I'm not going to anticipate having him on Tuesday."
Empty seats
KU's final exhibition game of the season taking place on Halloween night definitely hurt attendance.
Several rows of the upper sections of all corners of Allen Fieldhouse were empty, with the most notable area being above the student section in the northwest corner of the building.
It marked just the second time in KU basketball history that the Jayhawks have played on Halloween. The last one came in 2017, when Kansas beat Pitt State 100-54 behind 19 points from Malik Newman and 17 more from Svi Mykhailiuk.
Prior to tipoff the KU athletic department had a little fun with the holiday, releasing a Twitter video of staff member Fred Quartlebaum dressed as an Adidas mannequin scaring players as they walked into the locker room.
KU also hosted a costume parade on the court at halftime for the children in attendance.
Several people in the crowd and the KU pep band also dressed up for the occasion.
Azubuike FT update
None of them have counted for real yet, but the Kansas big man who constantly has all eyes on him when he steps to the free throw line has continued to struggle.
In the exhibition opener, Udoka Azubuike hit just one of five from the free throw line. On Thursday, he missed all four of his free throw attempts, putting him, unofficially, at 11% heading into the season.
Despite the rough start — which resets to 0 for 0 on Tuesday night — Self continues to believe better days are ahead for Azubuike.
"He's working at it, folks," Self said. "And I do believe he'll be much improved this year. It has a chance to go in when it leaves his hand. His stroke looks 10 times better than it did. It's soft and those sorts of things. I'll be surprised if he doesn't shoot above 50 (percent). Although that's still not great, that would be a huge improvement, obviously, and I think that that will occur."
This and that...
KU's win Thursday moved the Jayhawks to 13-0 all-time against Pitt State in a series that dates back to 1944... That includes a 9-0 mark in exhibition matchups and a 4-0 clip in four regular season games from 1944-2001... The Jayhawks are now 90-9 in exhibition games, including a streak of 31 consecutive victories, dating back to Oct. 30, 2012. Kansas is 63-4 all-time in exhibition games played inside Allen Fieldhouse and 58-2 all-time in exhibition play under Self... The Jayhawks have now won 52 consecutive exhibition games in their home gym... KU will open the regular season Tuesday in New York City with a Champions Classic clash with No. 4 Duke on ESPN. The Jayhawks have won three in a row over the Blue Devils, including the 2017 Champions Classic game in New York and the 2018 Elite Eight game in Omaha, Neb... Kansas has won three straight Champions Classic games and is 4-4 all-time in the event.
https://www.youtube.com/watch?v=zBrAYP7O5TU&t=4s
https://www.youtube.com/watch?v=bLGx7F2pnVQ
https://www.youtube.com/watch?v=2vh_VPyitHc